High Avalanche Risk Affecting Conditions on Major Passes
Posted:
Updated: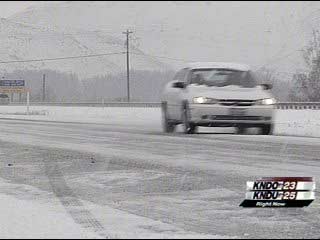 YAKIMA, Wash. -- As weather conditions continue to change making conditions difficult in Central Washington, the situation is much worse in the state's major passes and changing as well.
There were limitations to cross I-90 as of early Friday morning where Snoqualmie Pass had reopened after closing Thursday. The speed limit over the pass was 35 miles per hour and chains were required on all vehicles except those with all wheel drive. Both White Pass and Stevens pass were still closed Crews were going to assess the avalanche dangers later in the morning and decide then whether or not to re-open.
Meanwhile people along parts of the I-82 corridor greated the New Year with four to five fresh inches of snow. This caused several accidents, one involving a state patrol car.
"A motorist passed the collision scene, lost control and slid into the side of my patrol car.....I would say that all of them could have been prevented today if they'd just used a little bit slower speed or been properly equipped to drive in snow and ice," said Sgt. Edward McAvoy, Washington State Patrol.
D.O.T. crews are working around the clock to aleve avlanche dangers and re-open the two other passes. Crews detonated avalanche prone hillsides along Snoqualmie, Stevens and White passes, while snow-plows worked to clear the roads.
Another storm headed for Washington is expected to dump more snow on the Cascades overnight, which means avalanche crews will continue to monitor the risk of avalanches risk.
Even though Snoqualmie Pass may close later in the day Friday and could see limited openings for the next few days.
On Thursday, state officials were advising people to hold back from driving through the passes.
"Well, today's not a good day to travel. We have Snoqualmie, Stevens and White Pass all closed due to high avalanche danger," said Mike Westbay, Washington Department of Transportation.
The weather also made travel in the central part of the state difficult on Thursday.

"With the snow event we had this morning we had quite a few slide offs throughout the Yakima Valley," said McAvoy.
As we're hit with another round of snow, drivers across Washington are sliding, chaining-up or just plain stuck where they're at. All three main routes cutting through the state are closed and likely closed for a while.
"Traffic is backed up waiting and really people shouldn't wait because we're really expecting a long closure and a lot more snow in the forecast," said Westbay.