Idaho Volunteers Pull Moose From Icy Lake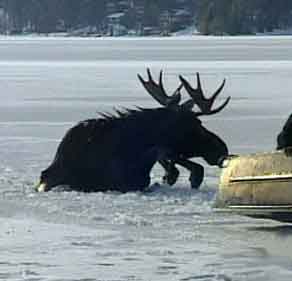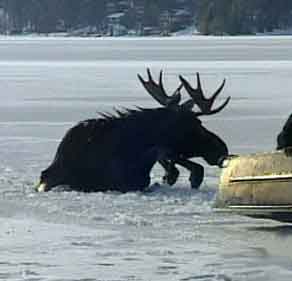 Associated Press - January 3, 2009 2:25 AM ET
COOLIN, Idaho (AP) - Some 30 volunteers started their new year by rescuing a female moose that had crashed through the ice at Priest Lake in north Idaho.
Residents of the town of Coolin first spotted the struggling animal shortly after daybreak Thursday, treading water about 100 yards from shore. Eight hours later, the moose had been hoisted out of the lake, warmed up, and fed some oats. The animal eventually regained enough strength to amble off into the nearby pine forest.
Idaho Fish and Game agents weren't involved. And in fact, Officer Craig Walker said later, "It makes a neat story, but I wouldn't advise anyone to repeat it." He adds that cow moose can weigh 700 pounds and are often belligerent.
The rescue included a woman on snowshoes who lassoed the moose's neck and six men who ventured out onto the ice, pushing a small boat just in case the ice broke, and managed to loop a rope around the animal's rump and hoist it out of the water.
Information from: The Spokesman-Review, http://www.spokesmanreview.com
Copyright 2008 The Associated Press. All rights reserved. This material may not be published, broadcast, rewritten or redistributed.