Investing In Your Future
Posted:
Updated: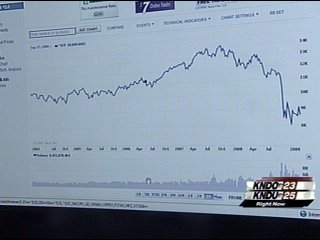 YAKIMA--Despite the new year and a new president, our economy is turned downward. Many are wondering, what's the best way to save money now?
Dave Lewis is a consultant for Ameriprise. In tough times like these, he has to keep his clients from acting on their emotions.
"When fear or greed take over, people make serious mistakes," Lewis said.
The stock market has dropped more than 20 percent in value five times since 1987. However, the market is worth five times more right now than it was 22 years ago. Lewis believes investors need to take a long term view.
"What's important is not what it's worth next year or especially not what it's worth week," Lewis said. "What's important is what is it going to be worth when you need it in 20 years."
Declining markets only mean a loss of value if you sell. Now is actually a good time to buy, though that can be hard for most people to do.
"I'm pretty much holding tight with my money," Jim Marlow said. "I'm not investing and I'm certainly not selling."
"Right now I think we're just going to stay put until Obama gets in, let things settle down a bit," Barbara Holford said. "I'm not interested in making a whole bunch of money or losing a whole bunch of money."
These people are trying to stay the course.
"[My husband and I] want to protect our assets, make sure that we can stay in there for the long haul," Holford said.
"I am concerned but I'm not really worried," Marlow said. "I think our economy will turn around."
Lewis also notes that in some ways, this recession offers an opportunity to buy cheap, especially when it comes to retirement plans.
"If there's any way you can increase the amount of money you're putting away in your 401K plan, do it."