M's Caravan Stops in Yakima
Posted:
Updated: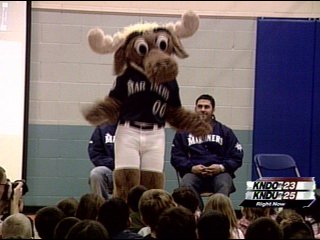 YAKIMA, Wash. -- The Mariners Caravan brought a couple of big leaguers to an elementary school in Yakima Monday. They were a big hit, but it turns out it was the players that had the most fun.
They come to inspire young people to pursue their dreams, to stay off drugs, and be respectful to others. Mariners pitcher Ryan Feierabend says, "I found out Im gonna be a Dad and I look to give my son or daughter the same morals I try to instill in these kids."

The players on the Mariners' Caravan say driving on roads like the ones in Yakima is old hat to them because many of them have spent seasons on the bus in the minor leagues. But, they say, the difference is the smiles they see on the kids faces.
Feierabend says, "Their not into us as much as they are into the Moose."

Pitcher Ryan Feierabend, third baseman Matt Tuiasosopo, and of course the Moose will visit nearly two dozen cities across the Pacific Northwest, starting Monday with Gilbert Elementary School in Yakima.

Feierabend says, "I think its great to get out and see kids that are this age. When I was younger, I wish I had the opportunity to meet ballplayers."

Tuiasosopo is a Western Washington native and he says being part of the caravan has been especially fun for him.
He says, "It means a lot, I'm very lucky and very thankful."

Hopefuly, the Moose and the Mariners can expect many smiles in the 2009 season.