Judge Yule Retires, Spanner Sworn in As New Judge
Posted:
Updated: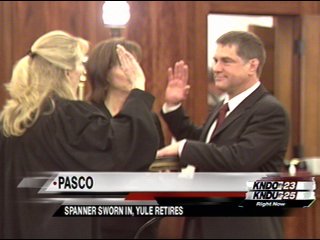 PASCO, Wash.-- Bruce Spanner was sworn in as the new Benton Franklin Superior Court judge, and Dennis Yule has officially retired from that position on Monday.
Many people gathered in the Historic Courtroom at the Franklin County Courthouse for the Spanner's swearing in and robing.
Bruce Spanner won the election against Sal Mendoza last November to earn a seat on the court bench. Monday Spanner put on the traditional judge's robe and sat on the bench for the first time. He says, "It's an incredible privilege that I've been granted, and the public has trusted me with a very important and responsible position. So, it's my job just to work as hard as I can and I really look forward to it."
Spanner was a lawyer for the past 24 years, and now has to make the transition from lawyer to judge. He describes it as, "This is the culmination of many years of hard work; work in the community to develop lots of relationships, work in the legal profession to gain the confidence of my peers."
Not only was it a big day for Judge Spanner, but Judge Yule, who retired Monday after 23 years on the bench. Yule describes the feeling as "bittersweet." He had some advice for Judge Spanner, the same advice he got 23 years ago. "Consider each case that you hear as the most important case you'll hear." The advice certainly served Yule well. He was a well-known and well-respected judge.
Although he retired, he says he'll still be around. "I wouldn't be able to just suddenly walk out of the courthouse and leave it completely behind me." Yule says he will continue to work on the Models for Justice Initiative, serve as a pro-tem or substitute judge, and will still be a member of the state Minority and Justice Commission.