Hopp Racing: Five Championships in Six Years
Posted:
Updated: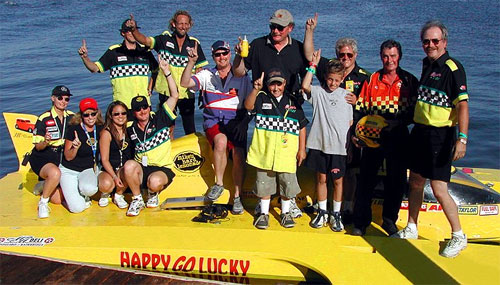 PHOTOS: Mark Sharley, Alan Lagervall, and the Hopp archives
STORY: ULHRA
That's quite a legacy for Hopp Racing out of Snohomish, Washington.

For a team that struggled in the early days of Unlimited Light Hydroplane Racing they have developed into the preeminent team in the sport. Patriarch and co-driver Jerry Hopp and his son Greg and their experienced crew have been a "marked" team for several years in ULHRA, and still they find a way to come out on top. In 2008, it was close as during the season the UL-72 Miss Boat Electric driven by Kayleigh Perkins and the UL-14 Miss Critical Logic driven by Paul Becker both held the points lead.
In the end, however, it was championship #5 for Hopp Racing with the Graham Trucking G.T. - Happy Go Lucky - Pump Tech.
Jerry Hopp started his racing career in 1969. His first race was in an outboard hydroplane. The class? A-Stock. One of his opponents that day on Cottage Lake in Washington State was a youngster destined for big things in hydroplane racing: Chip Hanauer. As it turned out, Jerry Hopp also was destined for quite a career, and though he did earn a National High Point Championship in 145 cubic inch hydroplanes in 1983, and while Hanauer went on to be the second winningest driver in Unlimited Hydroplanes, it was here in ULHRA that the senior Hopp has become the winningest team owner, and ranks 5th all time as a driver with 7 Unlimited Light victories.
Greg Hopp leads the field for most career wins with 20, including three race victories in 2008. Of course, Jerry will tell you that if it wasn't for his prior knee problems which were surgically corrected a few years ago he'd probably have more race wins as a driver, but Greg always managed to get to the cockpit first!

The Hopp team began their Unlimited Lights' career in 1995 with what today is the oldest boat in the UL fleet, the venerable and still competitive UL-98 Miss Atomic Screen Printing. Gradually their program would improve through the years.
There was one very memorable heat race involving Greg Hopp and the retired Phil Bononcini in the UL-72 at Renton WA where Greg edged Phil by less than a boat length. That showed the team was growing in capability. Later, prior to the 2001 season the team acquired the then winningest boat in Unlimited Lights, the former Alamo Rent a Car that Bo Schide had driven to 12 victories between 1997 & 1999. Today that Jamie Auld built hull remains the winningest boat in UL history, now with 35 individual trophies and 8 National Championships.

An extra highlight for the team in 2008 was establishing two new Kilo speed records, in Unlimited Light and Grand Prix with the Auld hull, set in October at Devils Lake near Lincoln City, OR.