President Obama's Impact On Black History Month in Tri-Cities
Posted:
Updated: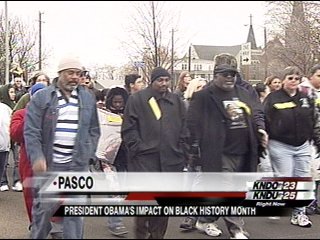 KENNEWICK, Wash.-- Just a few weeks ago many people celebrated in honor of Martin Luther King Jr., and the next day millions watched as the first Black President took office.
"Symbolically it represents everything we've struggled for and I use that word "we" as Americans, just as well as I do for Blacks," said Doctor Dallas Barnes, a professor at WSU Tri-Cities.
Doctor Barnes says while it's a step forward for Blacks in America, much work is yet to be done.
"More of them are poor, more black children are in foster care than any other group," said Barnes.
Barnes says the percentage of Blacks living in the Tri-Cities is still in the single digits. One example, the student population at our local WSU campus.
"I think there's about five or six students on the campus total out of 1,300 students," said Robin Mitchell, President of the Multicultural Club at WSU Tri-Cities.
This year students have added more events honoring black history month. Including a display of works by regional African-American artists.
But is it a different Black history month, now that a black man is in office?
"I don't know if it's necessarily different, but I know it has definitely increased the feeling of inclusion and progress, we definitely have a long way to come, but we've come a long way as well," said Mitchell.
"Hopefully in 20 years but definitely in 50 years, we're going to see a lot of these cultural barriers completely erase," said David William Pitts, who worked for the Obama Campaign.
For Barnes Black history month 2009, marks a new beginning.
"I don't think many people have any idea of how historic this is, I don't think you can take a people, black people in this case, with no rights whatsoever, during a lifetime, can come up and be the President of the greatest nation on earth, it's just quite something to comprehend," said Barnes.