NAACP Turns 100, Yakima Chapter Celebrates With Civil Rights Panel
Posted:
Updated: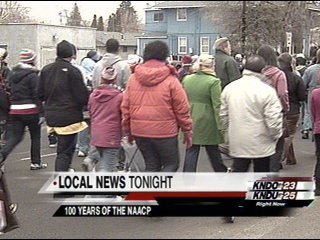 YAKIMA, Wash. - For decades the National Association for the Advancement of Colored People (NAACP) has had a presence in the region and on the night of the group's centennial celebration, the local chapter will host a special event Thursday.
Last month, members of the Yakima County chapter of the NAACP took part in the Martin Luther King Parade. Tonight some of those same members will attend a panel addressing the state of civil rights in Yakima.
James Parks is the president of the local chapter. He says several years later, through tough times, the group is still working to make the community better.
"The NAACP is still on guard, you know," said Parks. "I think that despite some problems that we have had, the organization as a whole has had in the past, we're still here."
The NAACP was founded on Feb. 12, 1909 in New York. One hundred years earlier, was the birth of Abraham Lincoln. Group leaders say that is no coincidence, the group was founded with that date in mind.
Parks says it is also worth noting that the NAACP was started by black and white citizens and that locally they continue to look out for all people.
"The Yakima County branch, we still take complaints from anybody that comes in," he said. "White, Black, Hispanic, it does not matter."
Some of the speakers for the civil rights panel include local professionals as well as members of the city council.
The panel will take place at the Southeast Community Center at 1211 South 7
th
Street in Yakima. The event is Thursday from 6:00 - 8:00 p.m. and open to the public, for more information call 575-6114.