International racing provides opportunities and challenges
Posted:
Updated:
Growing the sport has meant changing the way you approach new venues. "We don't want to forget our roots," said ABRA's Sam Cole. "We've very loyal to our race sites here." But finding new sites in the United States has proven to be difficult.
If you can find a community that has an interest, the sponsorship support and a volunteer base, you still have to get past the regulations and the changing georgraphy. "The red tape you go through to put on a race here is tough," said Cole.
Many of us got a first hand look inside the progress as we followed attempts to bring an exhibition race back to Kelowna, British Columbia. Concerns over noise and environment nearly killed years of planning and preparation because the Kelowna City Council had to approve the event before it could move forward.

HYDROINSIDER.COM ARCHIVES:
Unlimited Hydroplane Exhibition Event for Kelowna, British Columbia has been approved >>
Cole said people often ask him why ABRA doesn't go back to places they raced in the past. He said that many of the past race sites simply aren't options anymore. "What used to be a barren lake with a bar at the end of it now has mansion built all around it," he said. "They don't want us there."
It's different when you're working on events internationally. "In many of the countries we're dealing with, boat racing is run by government organizations," Cole said. "They can say, we want to do this and just do it."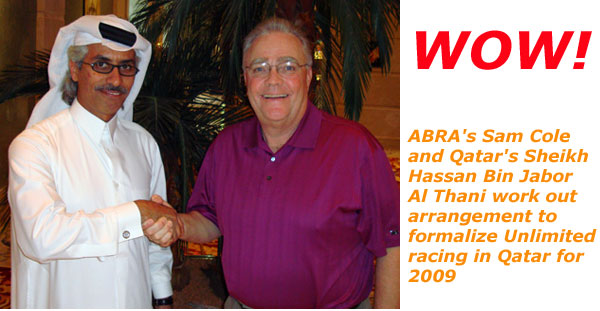 That's the case in Doha, Qatar, ABRA's newest race site. The Qatar Marine Sports Federation is headed up by Qatar's Sheikh Hassan Bin Jabor Al Thani, a member of the country's ruling class family.



HYDROINSIDER.COM ARCHIVES:
ABRA announces racing in Qatar >>
Cole said it's often easier to work with these types of organizations that don't have to go through all the red tape.
"Owners are very, very committed to growing the sport and going new places," said Cole who hopes to see an international expansion of Unlimited Hydroplane racing. "We have great loyalty to the events we have here," said Cole. "But we want to grow from there. We're trying to be a global sport and bring new dollars into the sport."
Cole said they would love to have six here and six events abroad. "Within five years, adding 5 or 6 events in North America and 5 or 6 abroad," he said.
Still, international racing would change the fundamentals of the way the sport's operated, especially if ABRA and the owners are successful in adding even more events.
Teams now are largely run by what I call "professional volunteers." They are professional in very sense of the word, but just not getting paid for it because the sport doesn't generate the kind of money to fund a full-time staff.
"If we're going to send crews abroad for 5 or 6 months, we're going to have to have paid crews," said Cole.
And he said we're going to need to deal with logistical problems we've never encountered before. "How do you take 10 boats to China or Korea?"