Kennewick Woman Accused Of Theft Found in Arizona After 26 Years
Posted:
Updated: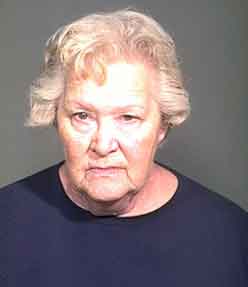 KENNEWICK, Wash.-- Barbara Eileen Kurz was 44-years-old back in 1983. That's when Kennewick police last heard of her whereabouts.
On February 17th, Kurz, who's now 70 was finally arrested in Arizona. Kennewick Police Chief Ken Hohenberg remembers when the case was fresh in 1983.
"During that time period we had a missing person, initially there was thought that there foul play involved. As the investigation began to unfold there had been an audit that had been scheduled and canceled a couple times, later on it was discovered a large amount of money that had been embezzled," said Hohenberg.
Kurz is accused of taking $106,000 from the Tri-City Medical Credit Union. Court documents say $4,000 were also taken from Gesa Credit Union where she was once an employee.
Kurz went missing on Valentine's Day in 1983. Later that day her car was found near Pendleton, Oregon.
"At that time we followed many different leads and basically they didn't take us anywhere," said Hohenberg.
But the search ended on February 17th, in Mesa, Arizona.
"This was a result of a police department continuing to reopen the investigation until they found some social security numbers that led to her current whereabouts," said Andy Miller, Benton County Prosecutor.
While in Mesa, Kurz went by the name of Renee Fulgham and used a social security number that wasn't hers.
For now it's a waiting game for her to come back to Benton County.
"If she waives extradition she could be up here in a matter of days, if she doesn't, it could take up to a month," said Miller.
Miller says Kurz could face a maximum of 10 years in jail. Staff at Gesa Credit Union say they were shocked to hear about the arrest.
Kennewick police say they were fortunate to get a lot of help from the Mesa Police department. Kurz is being held in Maricopa County jail on $500,000 bail.