Man Drives Van into Yakima Business
Posted:
Updated: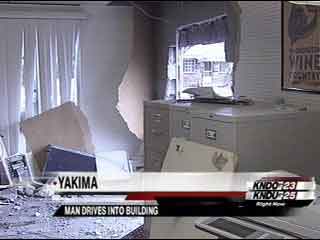 YAKIMA--A Yakima man drives his car through a building and then leaves the scene.
Anthony van Leuven was opening up the Domino's Pizza on Mead Avenue Sunday morning. He saw a silver minivan drive through the Domino's parking lot and into Lynch Distributing at about 9:00 a.m.
van Leuven said the van was traveling at about 35 miles per hour when it hit the building. The whole van ended up inside the office.
He spoke with the driver right after the accident. He said the man seemed dazed and tried to get away.
"He came out of the building and I told him, 'just settle down, I called 911,' and he pretty much refused [to wait]," van Leuven said. "He said that he had no license and he needed to get out of here."
The driver left the scene and police arrested him several blocks from the accident.
The driver told paramedics he suffers from headaches and occasional blackouts. He told them that he awoke from a blackout right before he crashed. He was taken to Yakima Memorial Hospital for a minor head injury.
No one was in the building at the time.
The driver's been cited and released for driving with a suspended license, driving with no insurance, and for hit and run.
Herb Lynch, the owner of Lynch Distributing, has the hole in the wall covered up, and despite an estimated $75,000 - $100,000 in damage, he hopes to be open for business on Monday.