Pasco Police Catch Suspected Drug Dealer After High Speed Chase.
Posted:
Updated: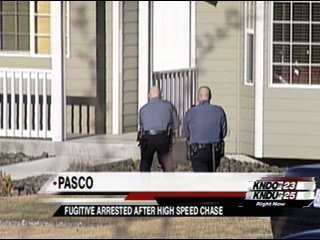 PASCO, Wash. - A suspected Pasco drug dealer is arrested after leading police on a high speed chase Wednesday.
Police said the suspect is 28-year-old Jorge Rios of Pasco. Rios was being monitored by Pasco Police for outstanding felony warrants for dealing a controled substance.
Police waited outside his home on Adobe Court when they saw Rios get in his Navy Blue 2005 Chryster 300. They followed him and tried to pull him over in front of the Tri-Cities Airport on 20th Avenue and West Argent Street. That's where the chase began.
Police said the suspect drove to North 4th Avenue to get onto I-182 Westbound. He exited I-182 onto Road 68 where he made a right onto Burden Boulevard. Police reported he then sped past the TRAC at over 90 miles an hour. Police then called off the pursuit because they felt it was too dangerous to keep following him. He turned onto North road 36, and made the mistake of pulling into a cul de sac on Cactus Court. No where to go, he parked at a random house and ran.
Thinking he might be inside, police surrounded the house where his car was parked. But Rios had run less than a block away, back to the house on Adobe Court where police originally were stationed to monitor the suspect. Police were still at the location when they saw Rios get in the car and hide in the back seat. His wife was getting ready to drive away but police quickly arrested the man and took him to jail.
Meanwhile, the family living in the home police surrounded were luckily not home at the time and didn't see what had happened until they saw it on KNDU News. Calvin Stewart recounts how he felt seeing it for the first time.
"I saw the news tonight and there on the news is my house and police officers surrounding it. And it was pretty surreal seeing what was going on in my driveway," said Stewart.
Stewart said he was at the gym and his fiancee decided to study late at school. Neither of them arrived at their home until well after it was over, and the suspects car was being towed.