Walla Walla R.V. Fire Kills 3 Women, Thursday Night Man Changed From Critical To Serious
Posted:
Updated: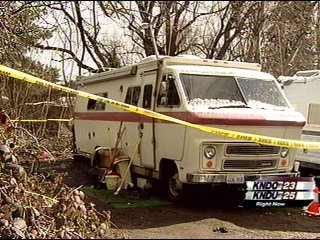 WALLA WALLA, Wash-- Thursday night Walla Walla Police investigators told KNDU that there was evidence of a portable meth lab in and around an R.V. that went up in flames Wednesday night.
Three women were killed and one man was airlifted to Harborview Medical Center in Seattle.
Thursday night Jared Allan's condition was changed from critical to serious.
Sgt. Randy Allessio said they believe there was a connection between the lab and the fire.
Walla Walla Police Detectives suspect chemicals to make meth could have ignited an explosion.

This all happened in a very quiet neighborhood near the center of Walla Walla. An elderly couple was letting their granddaughter live in an R.V. next to their house.

Neighbors say they believe she was dealing drugs out of the R.V. Police say they were in the process of trying to make the women move out.

Around 10:30 p.m. Wednesday night a severely burned man woke up neighbors on the 1000 block of Woodlawn St. screaming for help, and soon after police arrived.
"They found the motor home on fire," said Sgt. Randy Allessio, Walla Walla Police Detective.
When the fire department got to the R.V. they found three female bodies.
"We're guessing one of them is in their late twenties, and the other two appear to be in their late teens and early twenties," said Allessio.
Police are not sure what caused the fire and why the victims were not able to escape. The door to the R.V. was locked and Allan had escaped through a window. He tried to climb back in to save the women.

"We don't know whether it was asphyxiation, poisonous or toxic fumes that were in there," said Allessio.
Neighbors with little children not even a block away believe the woman living in the R.V. was dealing drugs and making meth.
"We knew that there was drugs going on in those R.V.s and there was nothing we could do about it. It's difficult allowing your kids to go outside and play when there's people lurking around or driving around," said Holly Graves, who lives near the R.V.

Police and the Fire Department were at the scene all day Thursday trying to determine what started the fire.
"We've got three young women here I mean two of these girls are 19 years-old, they ought to be thinking about where they are going to go to college, where they are going to go to work, who they are going to marry. The one woman's got a child I know of, she ought to be thinking about what time she should get out of school and who's going to take her to school tomorrow," said Allessio.

Police are not releasing the names of the victims. They say some of them had a criminal history and were known to be using meth.
Later on Thursday Walla Walla Police said the women living in the R.V. was renting a storage unit with meth making materials inside.