Red Cross Needs Donations For Apartment Fire in Kennewick
Posted:
Updated: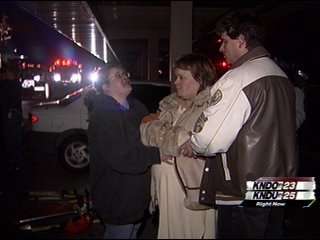 KENNEWICK, Wash-- Last weeks apartment fire in Kennewick left the homes of six families completely destroyed. Saturday KNDU talked to the Red Cross to see how their situations have improved.


Many are having a tough time recovering from last week, but volunteers at the Red Cross say the help from the community has been amazing.
Last Friday at the Kamiakin Apartments, next to Kamiakin High School, police say 49-year-old Richard Hammer knowingly started the fire in apartment D-105 they believe it started on a couch.

The fire completely destroyed six apartments. The Red Cross stepped in right away to help.

This week they worked with the apartments management and together are finding other places for them to live. One of the families, the Palmers, who we told you about last week and will be having a baby in less than a month, has found an apartment in the same complex.


Each family is still in need of just basic living necessities, like beds and clothing.
"Look around see what you have look in the mirror you've got clothes on your back, couch that you're sitting on. These people have none of that, and so they're literally starting from scratch," said Charles Rushing, Red Cross Volunteer.
The Benton Franklin Red Cross has had to really stretch the budget this year, and is almost out of money with still five months left in their fiscal year.
Please give them a call at 509-783-6195 to donate anything you can to help these families.