KENNEWICK, WA - Three new COVID-19 cases are announced in the Kennewick School District the week of October 5th. That brings the total number of students and staff to 11. The school board president, Dawn Adams, also now has the virus.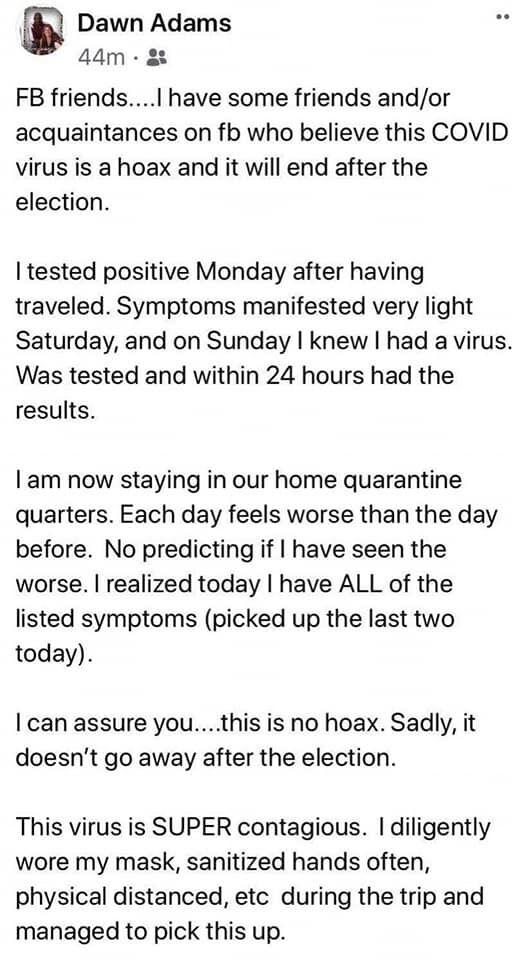 A screenshot from Adams' Facebook page is posted to the Flatten the Curve group on the social media site. Adams did not attend the latest virtual board meeting. Her Facebook post says, in part: "I can assure you this is no hoax. Sadly, it doesn't go away after the election."
Still, the board is sticking with its plan to get most students back in the classroom for hybrid-learning beginning in late October and early November. Right now, a small number of students are slated to head back to school on Monday.
Topping the agenda of Wednesday night's meeting was COVID-related safety. Custodians will be doing cleaning and sanitizing on a rigorous schedule which includes extra wipe-downs of high-touch surfaces throughout the day. 
UV sanitation will be done in ductwork of the nurse's room and isolation rooms. Teams are also working on ventilation improvements. 
The board also got an update on PPE standards: everything from hand sanitizer and gloves to face shields and goggles are available. They can also be restocked, as needed.