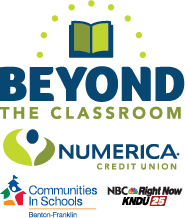 Celebrating Beyond the Classroom Champions
Join me, Monty Webb and Numerica Credit Union, as we surprise and honor some of the most amazing people from who are helping to prepare our Tri-Cities public school students for bright futures.

Communities in Schools Benton-Franklin Site Coordinators are experts who partner with our teachers to support kids based on their academic, health and family needs that often go beyond the classroom. Site Coordinators connect kids and their families to critical resources such as health care, counseling, food, clothing, school supplies to help them succeed.

Numerica Credit Union and KNDU are recognizing these awesome Beyond the Classroom Champions, each month during the school year, when KNDU's favorite morning Meteorologist Monty Webb will visit a deserving Site Coordinator to recognize and thank them for their hard work during KNDU's morning news broadcast. .

The deadline to submit "Beyond the Classroom" nomination forms is the last Monday of each month. The Numerica Credit Union committee will review applications, select the winner of the month, and show up at the school for a surprise award!

We encourage students, teacher and parents to submit nomination forms for their favorite deserving coordinators.
Get up-to-the-minute news sent straight to your device.
Topics
Breaking News
Weather Alert
TriCities Top Stories
Yakima Top Stories