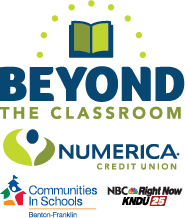 Thousands of students in our area face challenges that threaten their success in school.
Many rely on Communities in Schools of Benton-Franklin for support.

Together with Numerica Credit Union, we've been celebrating their great work with our Beyond the Classroom but the health crisis has closed schools and that's really tough on students Who struggle with poverty, hunger, trauma and other challenges.

Now, Communities in Schools of Benton-Franklin is out on the frontlines, delivering meals, educational materials
and other resources to students and their families.

They're doing whatever it takes to continue to surround students in the Tr-Cities with a community of support.

Join with Numerica Credit Union and make a difference in a child's life right her in the Tri-Cities area,
right now, in the classroom and beyond.

Click to make a donation during this critical time or text ALL IN to 71777.


Get up-to-the-minute news sent straight to your device.
Topics
Breaking News
Weather Alert
TriCities Top Stories
Yakima Top Stories