KENNEWICK, WA - Alexis Sanchez went to the Mid-Columbia library in Kennewick expecting to pick up a book, but when she walked into the library, she stopped dead in her tracks. 
"I was like, 'why do they have a statue of my dad here?'" Sanchez said. "Like I literally thought it was my dad."
She told NBC Right Now that she walked up closer to the bust and realized it was a display on Kennewick Man: the famous 9,000 year old skull found on the shore of the Columbia River in 1996. 
This inspired her to learn more about her heritage, so she took a 23andMe DNA test. She could only get the maternal haplogroup (the results from her mother's side), so a bit later she had her father, Javier Sanchez, submit his DNA for 23andMe as well. 
"Two years ago what they had for my dads haplogroup - it's like a paternal lineage - was that he was just related to Native Americans who traveled down to the Oregon coast... so that's why I was like, 'oh, that's why I feel so close; I love the Oregon coast,'" Sanchez said. 
For years, she has been teasing her father about looking like Kennewick Man. In May of 2013 she posted a side-by-side comparison photo of her father and Kennewick Man on Instagram.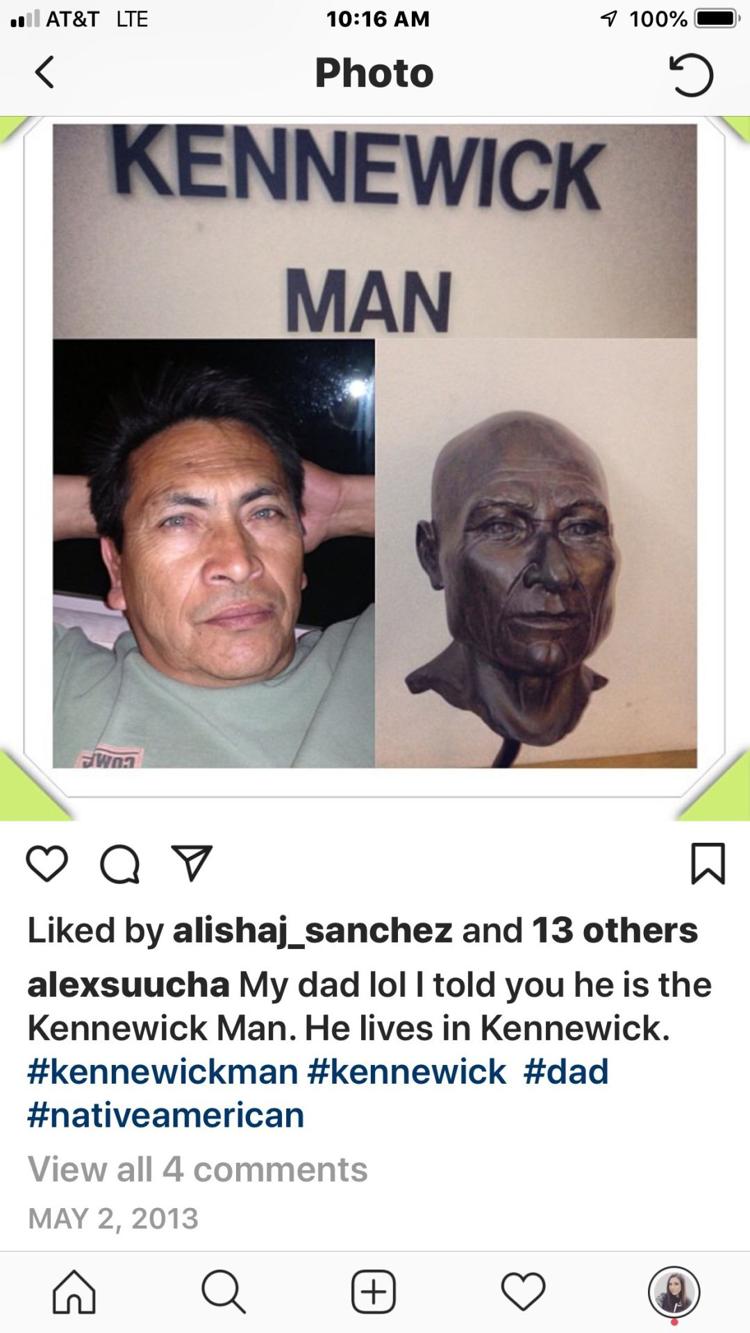 Last month, she re-checked her 23andMe account.
"I literally was just screaming on my couch!" she exclaimed.
23andMe had updated information linking her family to Kennwick Man. Essentially, her father shares paternal lineage with 'The Ancient One.'
Javier said, "I did it and something came out with the Kennewick Man; it really surprised me. I'm from Mexico and I came here when I was 16 and a half years old."
If you remember, scientists analyzed Kennewick Man's DNA and discovered in 2015 that Kennewick Man was Native American. Therefore, Javier and Kennewick Man belong to Haplogroup Q-M3.
A haplogroup is a group of single DNA strands, that all share a common ancestor at some point - connecting a Kennewick man to Kennewick Man. 
"It's a surprise finding out that by finding out the DNA test I'm kind of a descendant of the Kennewick Man... it's amazing, that surprised me a lot," Javier Sanchez said.