RICHLAND, WA - As much as the community faces "coronavirus fatigue," a Richland woman is facing real fatigue - four months after her battle with COVID-19.
"I would go back to my contagious stage anytime."
Julie Webb woke up one day in July and just knew.
"I slept for 20 hours..."
She had COVID.
"Everything hurt. I could not function."
The coronavirus swept through her family of three: entering through her firefighter husband on the frontlines, spreading to her 6-year-old son, ultimately infecting Julie.
"I never got the cough, the flu-like [symptoms]… I just felt horrible."
She almost expected it, but she didn't realize what was to come.
More than four months after getting infected, she hasn't even scratched the surface of recovery.
"I am just wiped out. It feels like my brain is swelling out of my head."
Julie is a "Long-Hauler," a term used by a growing number of doctors to describe a person experiencing lingering effects of the virus. The infection period fades, leaving patients with a long list of symptoms.
"[Doctors] did do some scans and they said, 'Well it looks like all your organs are inflamed. I can't explain that,' and I said yeah that's COVID... Why would some 38-year-old have all her organs swollen?"
She suffers inflammation, shortness of breath - then the brain fog hits and it all goes blank.
She isn't the only one.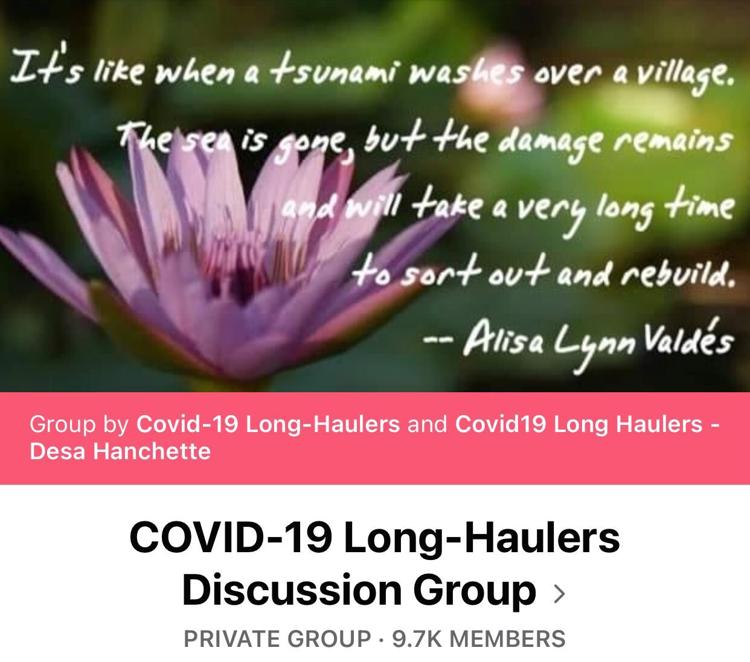 Julie is a member of the Facebook Discussion Group "COVID-19 Long-Haulers," a place where she and nearly 10,000 people around the world share their ongoing struggles.
It's been a source of comfort for her despite all the symptoms.
"This is 4 months later and my body is still reacting. It's hard… I'm glad more people are learning about long-haulers. We can help slow the spread by wearing our masks and social distancing, and educating our children… I'm sorry you can't go do this or do that, you can't go to school… but you're helping save lives."
While Julie didn't die from the virus, she says it's taken her life in different ways.
"I used to walk 6 miles. The fact that I can't walk 10 steps some days should be alarming to them [doctors]."
She's exhausted.
All she can do is take it day by day.
"Today is a good day. I'm able to talk to you and have a great conversation and I love it… You just, you take that in."