YAKIMA, WA - From parking to an impressive concert lineup and irresistible deals, we have everything you need to get ready for one of the biggest fairs in Eastern Washington.
The 2019 Central Washington State Fair kicks off Friday, September 20th and runs through Sunday, September 29th.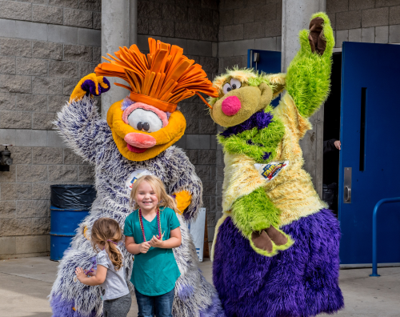 If you're planning to join in all the fair fun, here's when the gates open each day:
Friday: 12:00pm-11:00pm
Saturday: 11:00am-11:00pm
Sunday: 11:00am-10:00pm
Monday-Thursday: 12:00pm-10:00pm
Friday: 12:00pm-11:00pm
Saturday: 11:00am-11:00pm
Sunday: 11:00am-9:00pm
The Carnival Midway opens at 12:00pm every day except September 24-26th. It opens at 3:00pm Tuesday-Thursday.
As far as admission prices, regular admission for adults is $14.50 on weekdays and $16 on Saturday and Sunday. Senior tickets are $11.50, and kids age 5 and under get in free! Tickets are $9.50 for youth age 6-12. For military members: active, reserve, retired and veterans, tickets are $8. First responders also pay $8. The price for family of military and first responders is $9 at the gate.
Tickets can be purchased at ticket booths and online at www.ticketswest.com.
Carnival wristbands are $35 on Friday, Saturday and Sunday. The price drops down to $30 Monday-Thursday. You can also purchase individual tickets at $1 per ticket. For just $25 you can get 27 tickets, or 80 tickets for $70.
On-site fair parking must be purchased in advance at the box office. Main parking is $10 at the SunDome parking lot. All parking merges into the main lot and infield lot from Pacific Avenue, bordering the north edge of State Fair Park. To get there, take Fair Avenue or 18th Street.
This year, the concert lineup is anticipated to be a huge hit.
Country music artist Phil Vassar kicks things off Friday, September 20th at 7:30pm. Nelly will perform Saturday at 7:30pm, followed by Fidel Rueda on Sunday at 4:00pm. You can catch The Temptations performing on Tuesday at 7:00pm. On Wednesday night, check out Tracy Byrd with special guests Shenandoah. Night Ranger will rock it out on Thursday at 7:00pm. Country star, Scotty McCreery, performs at 7:30pm on Friday, September 27th. Next up is Creedence Clearwater Revisted at 7:30pm on Saturday. Finally, enjoy a show by Banda Machos on Sunday at 4:00pm.
Fair fans can take advantage of some special deals this year.
In honor of the first day of the Central Washington State Fair, gate admission is only $1 on Friday for the first four hours. You can also enjoy free parking from 12:00pm-4:00pm.
On Monday, just $27 and an empty "Franz" bread bag gets you gate admission and unlimited carnival rides.
You can get free gate admission on Wednesday if you bring three non-perishable food items to donate to the Operation Harvest Food Drive from 12:00pm-4:00pm.
For more information about the 2019 Central Washington State Fair, visit their official website www.fairfun.com.