RICHLAND, WA- International hiking group, Hike It Baby, started a local branch last April in the Tri-Cities last April. Hike It Baby hopes to encourage family's to get outside.
The local group averages 4-5 hikes a week. The hikes are different each time. 
Hike It Baby is a "non-profit organization dedicated to connecting families to nature with birth to school age children."
The organization has branches all over the United States and some in other countries such as Australia, Japan and Germany. Hike It Baby orginaly started in Portland, Oregon. 
Local ambassadors organize family-friendly group hikes around the Tri-Cities area and anyone is welcome! 
The local Tri-Cities chapter officially started in April of 2019. Heather Yale was a member of the branch in New Jersey and moved back to the Tri-Cities last year. She helped organize the new local branch.
"I was struggling, this group really saved me and gave me more confidence not only with my kids, but within myself," said Yale, ambassador for the Tri-Cities branch.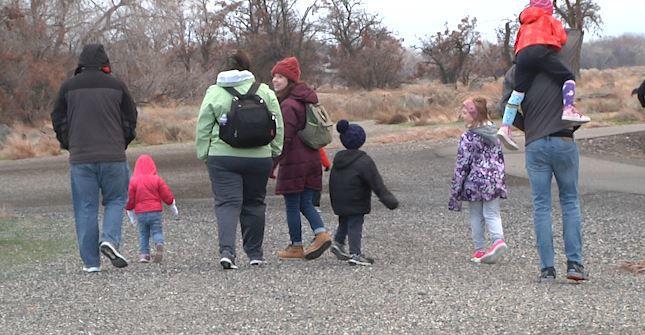 NBC Right Now went to their Saturday morning hike off of Columbia Park Trail in Richland; many families braved the cold and gusty winds to get outside and hike with their families and the group. 
If you are interested in joining the group with your family, you can visit the local groups Facebook page.
If you want to learn more about the international organization and find hikes near you, visit their website here.