PASCO, WA - Pasco Fire Department teamed up with Pasco School District to teach school nurses how to use "Stop the Bleed" kits today at Chiawana High School.
"Stop the Bleed" is an initiative from Homeland Security to teach the public how to become trained and equipped in a bleeding emergency before professional help arrives.
Pasco school nurses got hands on training by learning how to stuff gauze into fake wounds, and learned how to stop bleeding on the spot by practicing putting tourniquets on themselves. 
Shane Edinger, Pasco School District said it is important to be ready for anything in case of an emergency, with the training today and the kits will help aid in that.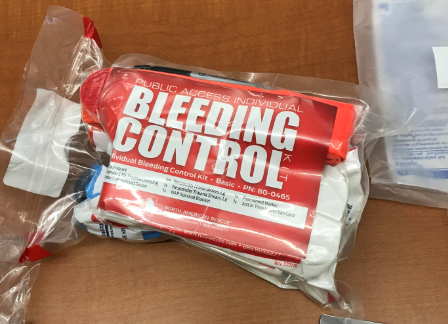 "If we had an emergency situation our folks would know what to do...as they wait for the medics to get there," Edinger said.  
Pasco Fire donated 30 of these kits to Pasco School District to help aid in the movement. 
Ben Shearer, Pasco Fire said this training with school nurses is just the first step and that they hope by training several people the word can spread about how to help in life threatening situations. 
"Alot of people think of it as active school shooters or something like that... but really we have more people die across the country from just trauma events happening. We are trying to get that word out that we can make the difference and get people to be aware that they can be the help until help arrives," Shearer said. 
Supplying these kits and having help already on the scene before emergency personnel arrives is what Pasco first responders say really makes the difference in an emergency situation. 
"This is really about making that bleeding stop, saving those people's lives right there at the scene and making all the difference in the world so when EMS does get there we can do things and we can get them to the hospital and the surgeon will have something to still work with," Shearer said. 
Shearer said goal is to get one of these kits in every classroom and then from there spread these kits into local businesses and areas throughout the community.