ZILLAH, WA - Employees with autism and other disabilities at the Community SEEDS Calico Cat Café are in danger of losing their jobs and the café closing due to the effects of the pandemic.
The café offers employment and job training for those who have autism and other disabilities, and features a separate cat adoption lounge for rescue cats. The café is a pilot social enterprise program of the nonprofit Community SEEDS, employing nine people, the majority of them with disabilities. 
The café opened in August of 2019, but was forced to close on January 15 due to water damage from a pipe that burst in the attic and collapsed the ceiling. After repairs were finished in May, the café opened back up for take-out orders with the help of a Small Business Administration paycheck protection loan.
However, those funds run out at the end of June, and the café will be forced to close unless funding can be secured to cover operating expense over the next few months while Yakima County restaurants struggle through the effects of covid-19 and lack of revenue. 
Rickette York, an employee at the café has written a letter to the community about how the café has changed her life. Coworkers have signed the letter to help raise support and spread awareness of the struggles they face in finding employment.
"I have been so happy, but now there is a chance that the doors might close... just when we finally found a place to belong, where we fit in, and now it might be taken away from us," said York in her letter.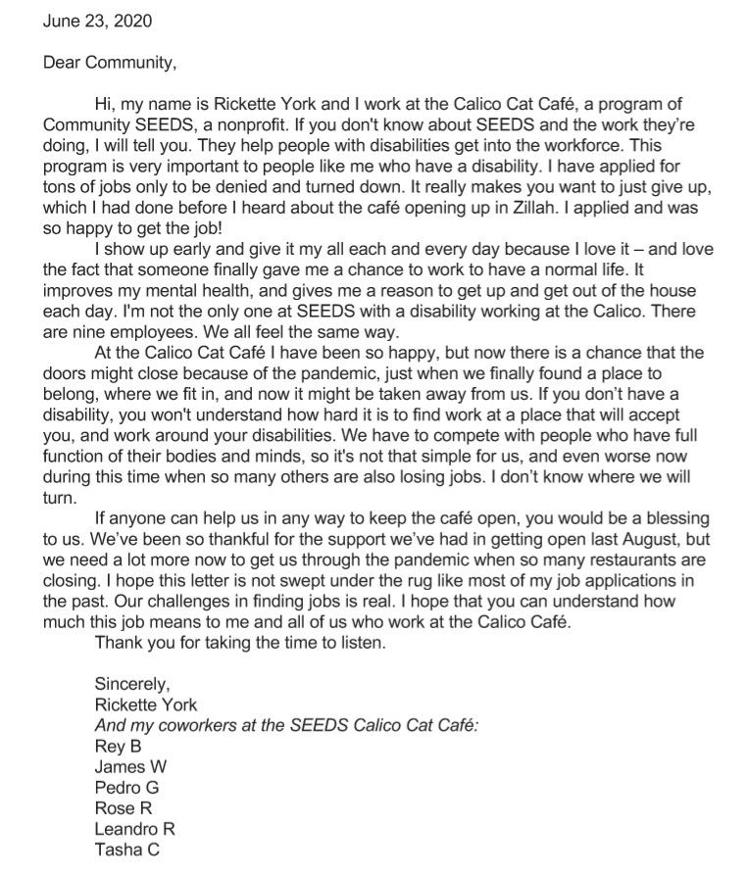 The organization is not eligible for Yakima County coronavirus grants because those grants are not available to nonprofits.
A Zillah supporter has offered to donate $1,500 per month as matching funds to help the cafe get back on its feet over the next few months. The café needs at least $7,500 a month to survive the pandemic.
If a $1,500 match is found the organization will be close to having half its funding. If adequate funding is not found immediately the café will be forced to close, release staff at the end of June, and liquidate assets in July.
Donations can be made by check or Paypal, or direct deposit to the Community SEEDS KeyBank account. To learn more visit www.seedsyv.wix.com/communityseeds or www.seedsyv.wix.com/calicocafe