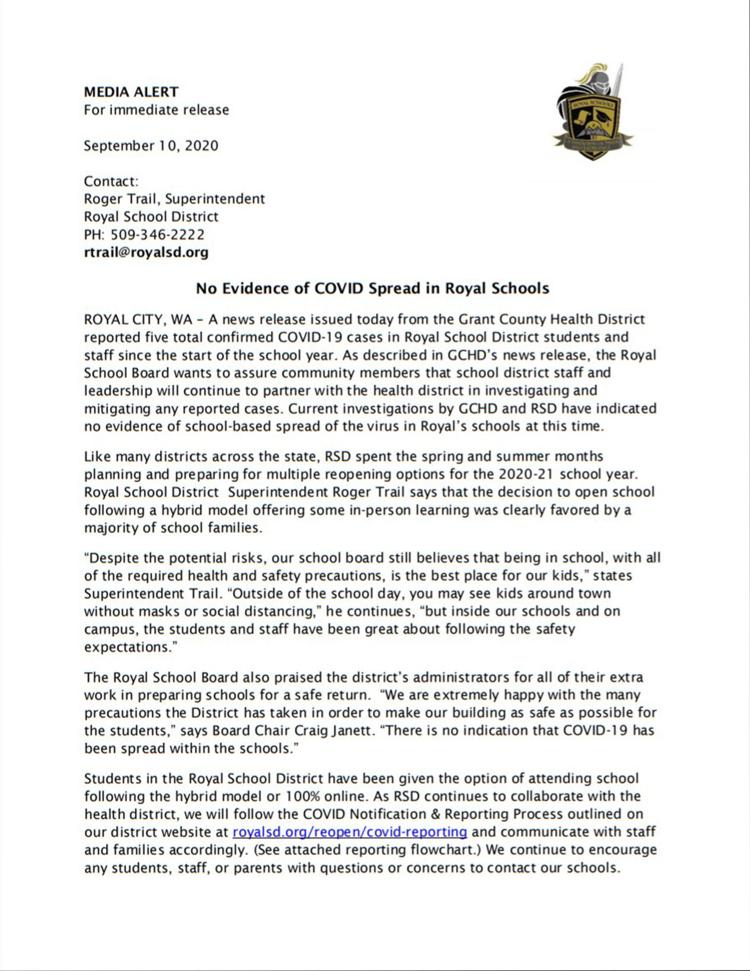 UPDATE (9/10/2020 6:16 PM): Current investigations by Grant County Health District and Royal School District have indicated no evidence of school-based spread of the virus in Royal's schools at this time.
Royal School District Superintendent Roger Trail says that the decision to open school following a hybrid model offering some in-person learning was clearly favored by a majority of school families.
"Despite the potential risks, our school board still believes that being in school, with all of the required health and safety precautions, is the best place for our kids," states Superintendent Trail. "Outside of the school day, you may see kids around town without masks or social distancing," he continues, "but inside our schools and on campus, the students and staff have been great about following the safety expectations."
For more information, please contact Superintendent Roger Trail at 509.346.2222.
---
GRANT COUNTY, WA - Grant County Health District is Working with Royal School District to Investigate 5 COVID-19 Cases Associated with School District.
On August 28, 2020 Royal School District (RSD) started the new school year with alternating days on campus and remote learning schedules as well as a 100% remote learning option. RSD is actively working with GCHD to investigate and contact trace four (5) COVID-19 cases: one (1) staff member and four (4) students from Red Rock Elementary, Intermediate School, and Middle School. If a child or other staff member had close contact with a person who tested positive, they will be contacted directly with instructions about monitoring symptoms, quarantining, and testing. At this point into the investigations, it is too early to assess whether there was any additional spread at schools.
The Washington State Department of Health and GCHD identifies a close contact as, "living with an individual who is positive for COVID-19, coming in contact with respiratory secretions of an infected individual (coughed/sneezed on, shared glasses/food/personal items), having physical contact with an infected individual, or being generally within 6 feet of an infected individual for more than 15 minutes."
For now, the schools in Royal City remain open based on the local school board decision to offer some form of in-person learning, but given the rate of COVID in Grant County, there is a continued risk for COVID spread on campus. GCHD alongside the school district staff continues to look for any additional cases and any evidence of school-based spread or school outbreaks. The decision to close the schools will be based on finding spread or outbreaks on school premises or on the buses. GCHD would like to thank RSD staff and leadership for their continued partnership and dedication to contact tracing.
As previously presented to our community, DOH and our region's health officers do not support full inperson education until the rate of COVID-19 drops below 75 /100,000 /14 days. As Grant County school districts and private schools bring some students who are unable to learn remotely for on-campus learning (based on their individualized plans), GCHD wants to remind everyone about continued dedication to written COVID safety plans, which should include:
Daily COVID-19 symptom checks.
Excluding students or staff who are symptomatic.
Cohorting of students and no interactions with other student groups.
Proper use of face coverings of all students and staff. No person should be on campus without a proper mask unless eating, drinking or have a waiver issued by their healthcare provider and Grant County Health Officer.
Maintain social distancing at all time. Masks should not be a replacement for maintaining social distancing during the school day.
Frequent hand washing and hand sanitizer available.
Adherence to home isolation and quarantine. Students and staff who have been identified as a close contact of a COVID-19 case should never attend school during their isolation or quarantine time.
For the health of your community, family, neighbors, and friends, it is critical to wear a face covering and limit the size of your gatherings. Each personal decision we make to socialize outside of our households may impact our most vulnerable residents. Please mask up and protect one another. Our community, schools, and businesses are relying on you to help slow the spread of the virus in Grant County.
For detailed information on Grant County COVID-19 related statistics, visit www.granthealth.org.