WALLA WALLA, Wash. - The Director of Community Health for Walla Walla County, Meghan DeBolt, is walking back on her statement that county residents held "coronavirus parties' to mingle with people who tested positive for the novel coronavirus.
Several national newspapers and networks picked up the story after DeBolt was quoted in the Walla Walla Union Bulletin confirming these parties were happening in Walla Walla County.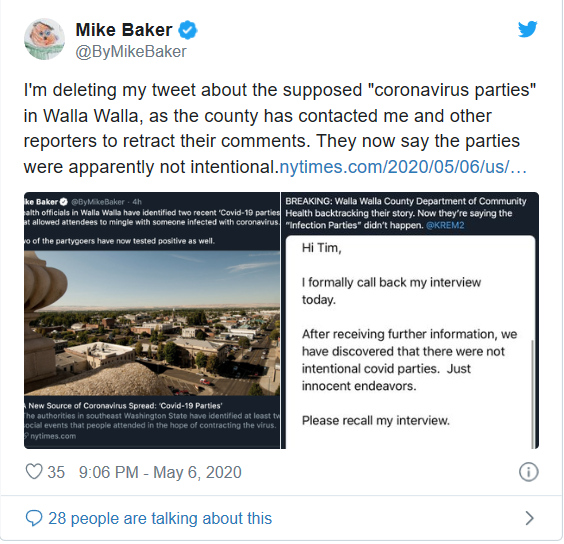 DeBolt told the Union-Bulletin on Tuesday that through contact tracing, public health officials have interviewed and identified some people that intentionally got together in groups with people who tested positive and exposed themselves to the virus to gain immunity. 
NBC Right Now spoke with DeBolt Wednesday night to clarify her comments after she began walking them back with multiple other media outlets, including the New York Times.
DeBolt told NBC Right Now the parties were not held with the intention of spreading the coronavirus, but instead, people were simply having parties and not caring if someone who tested positive with the novel coronavirus was there. Her most recent statement contradicts what DeBolt originally said.
The Washington State Department of Health issued a statement Wednesday evening, saying they were alarmed at reports of the parties.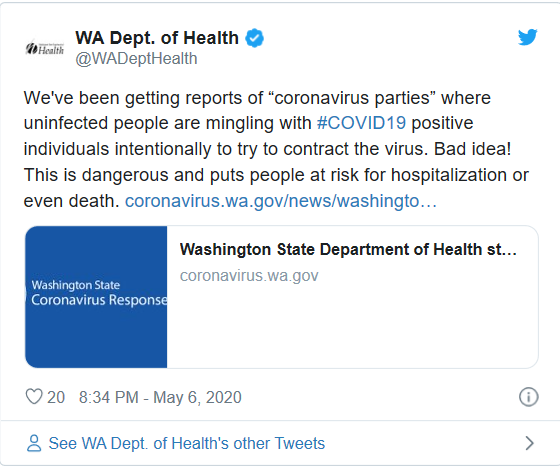 "Gathering in groups in the midst of this pandemic can be incredibly dangerous and puts people at increased risk for hospitalization and even death," John Wiesman, the Washington State Secretary of Health said. "Furthermore, it is unknown if people who recover from COVID-19 have long-term protection. There is still a lot we don't know about this virus, including any long-term health issues which may occur after infection. This kind of unnecessary behavior may create a preventable uptick in cases which further slows our state's ability to gradually re-open."  ​
Gathering in groups larger than five people or with those outside of your household is restricted under Gov. Inslee's "Stay Home, Stay Healthy" Order.