YAKIMA, Wash. - Yakima Valley College and WSU Tri-cities are working to educate their students on the importance of voting this election season. Both schools have people in place to answer questions and are providing easy ways to register. 
Yakima Valley College has been setting up information booths at all student events since fall quarter started. Student government also hung-up posters with QR codes students can scan to register to vote. 
Director of Community Relations Dustin Wunderlich said YVC wants to make sure its students know how the process works.
"Yakima Valley College values its role in building the future of Yakima valley and one of the most important ways for people to do that is to vote," Wunderlich said. 
Running start student at YVC Sonia Ortiz said she registered to vote for the first time this election and the information tables were really helpful. 
"Something that I learned is that it's not a difficult process to do," Ortiz said. "It is just your voice waiting to be heard and having someone to help you follow through with those steps is something that was really helpful."
WSU Tri-cities is helping educate its students through election events. Since the beginning of fall quarter, they've held several events aimed at showing students how the voting process works. During their most recent event, two candidates for judge positions visited their school so student could listen to their platforms. 
Director of Student Engagement at WSU Tri-cities Ian Jamieson said they also have an election hub where students can ask questions. 
"We are there as a resource but not to advocate for any individuals and so its pointing them to all the resources," Jamieson said. "It's encouraging them to look up the voting booklet for what candidates submitted."
In the spirit of voting accessibility, the school also installed a ballot drop box on campus about four years ago. Student Isaac Marroquin said having that on campus is very helpful. 
"As a student, time is everything," Marroquin said. "Being able to have that on our campus, in such an accessible spot, makes it easier for me as well as the support if I have questions, I know that I can find someone."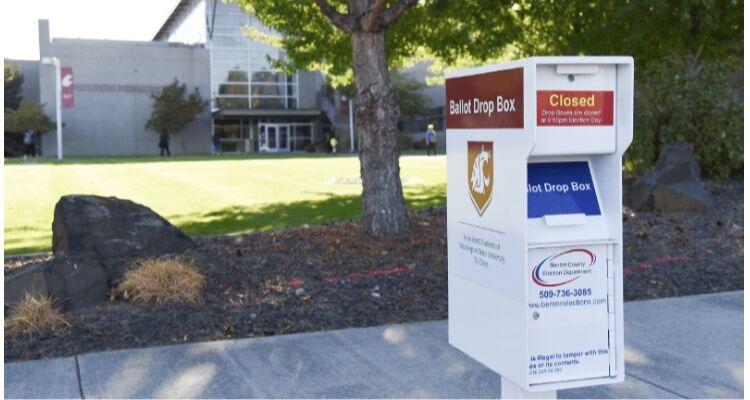 WSU Tri-cities will host an election hub on November 8 to help students vote. It is still unknown if YVC will host an event on election day.