I-90, Wash. - 
UPDATE: AUGUST 4, 2022 6:21 p.m. 
The Kittitas County Sheriff's Office has reported the Vantage Highway is now reopened. The fire is now 35% contained. 
UPDATE: AUGUST 3, 2022 10:36 p.m. 
The fire is now estimated at 17,000 acres, based on a 26,490 acre perimeter with multiple large interruptions of unburned fuel. It is still reported at 25% containment.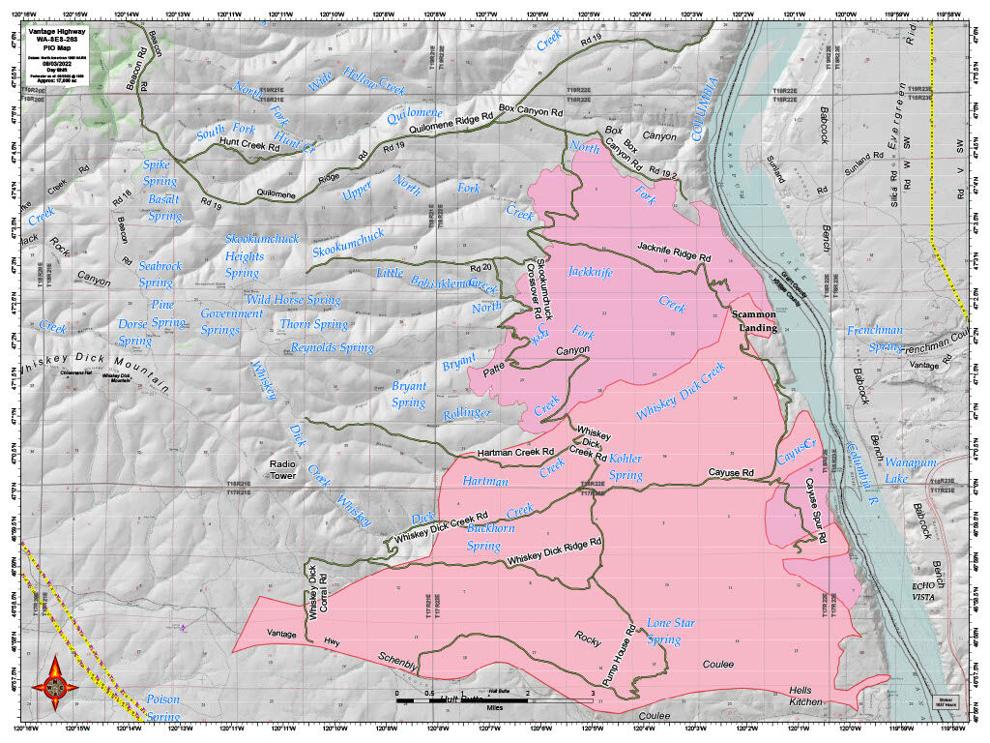 Crews will camp out overnight on the fire line. 
At this time, there are six hand crews, 31 engines, three dozers, six water tenders and air resources responding. 
WDFW updates are available online. 
UPDATE: AUGUST 3, 2022 8:20 p.m. 
The Vantage Highway Fire is an estimated 26,500 acres and at 25% containment.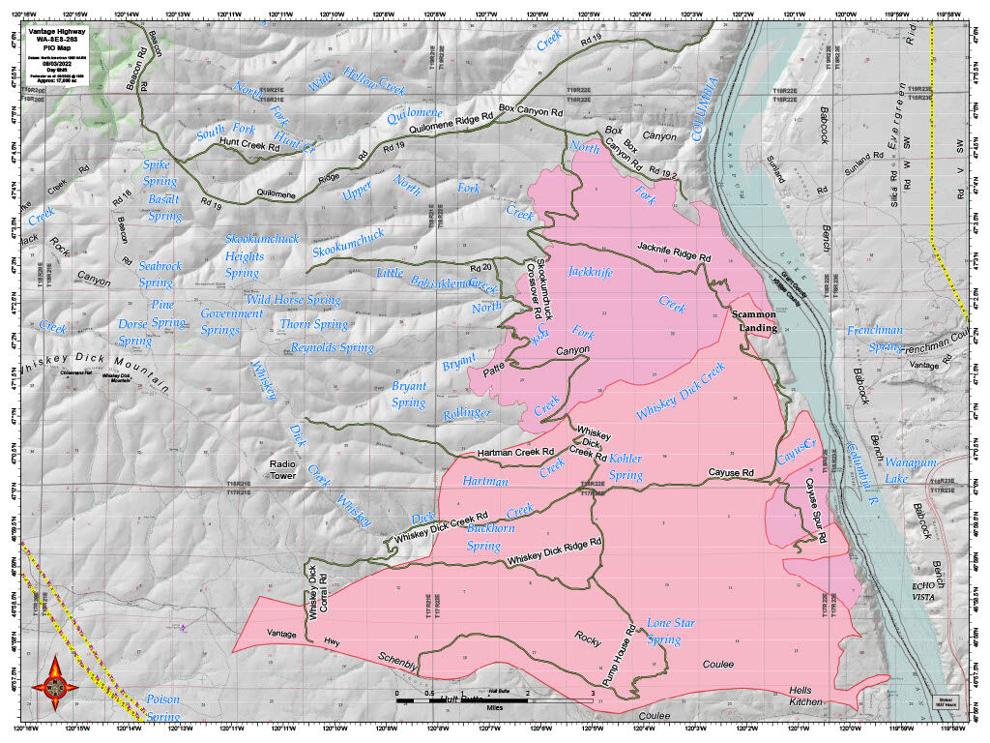 UPDATE: AUGUST 3, 2022. 8:00 a.m.
The Vantage Highway fire is now burning across 10,500 acres and is 18% contained.
Aircraft will continue to assist in fire suppression efforts by dropping water and fire retardant along the northern boundary of the fire today.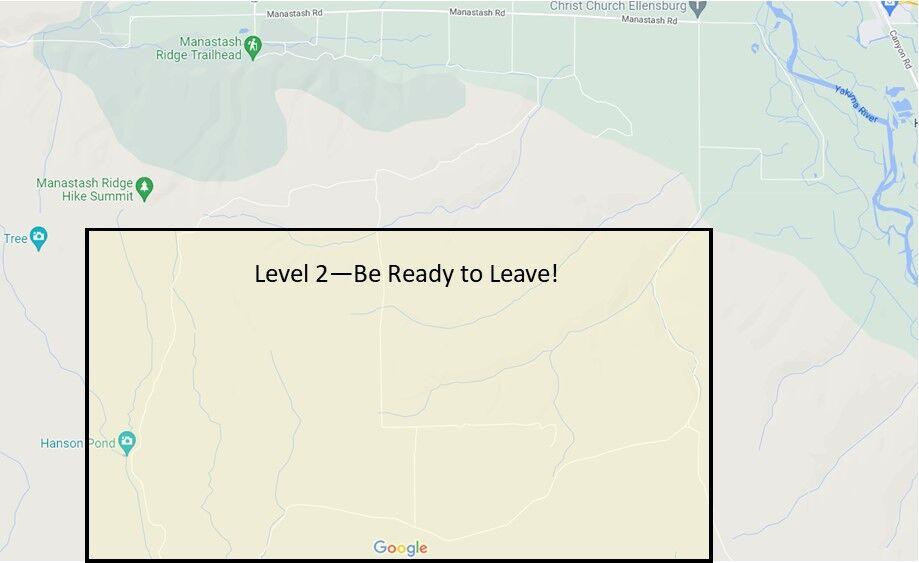 A Red Flag Warning is in effect until 9 p.m. today, due to high winds.
There are currently no evacuation notices for today.
UPDATE: 9:00 a.m.
The Vantage Highway fire is currently expanding to the north and is now 8,000 acres and is still 10% contained.
Fire activity is expected to increase around midday as temperatures and wind speeds pick up.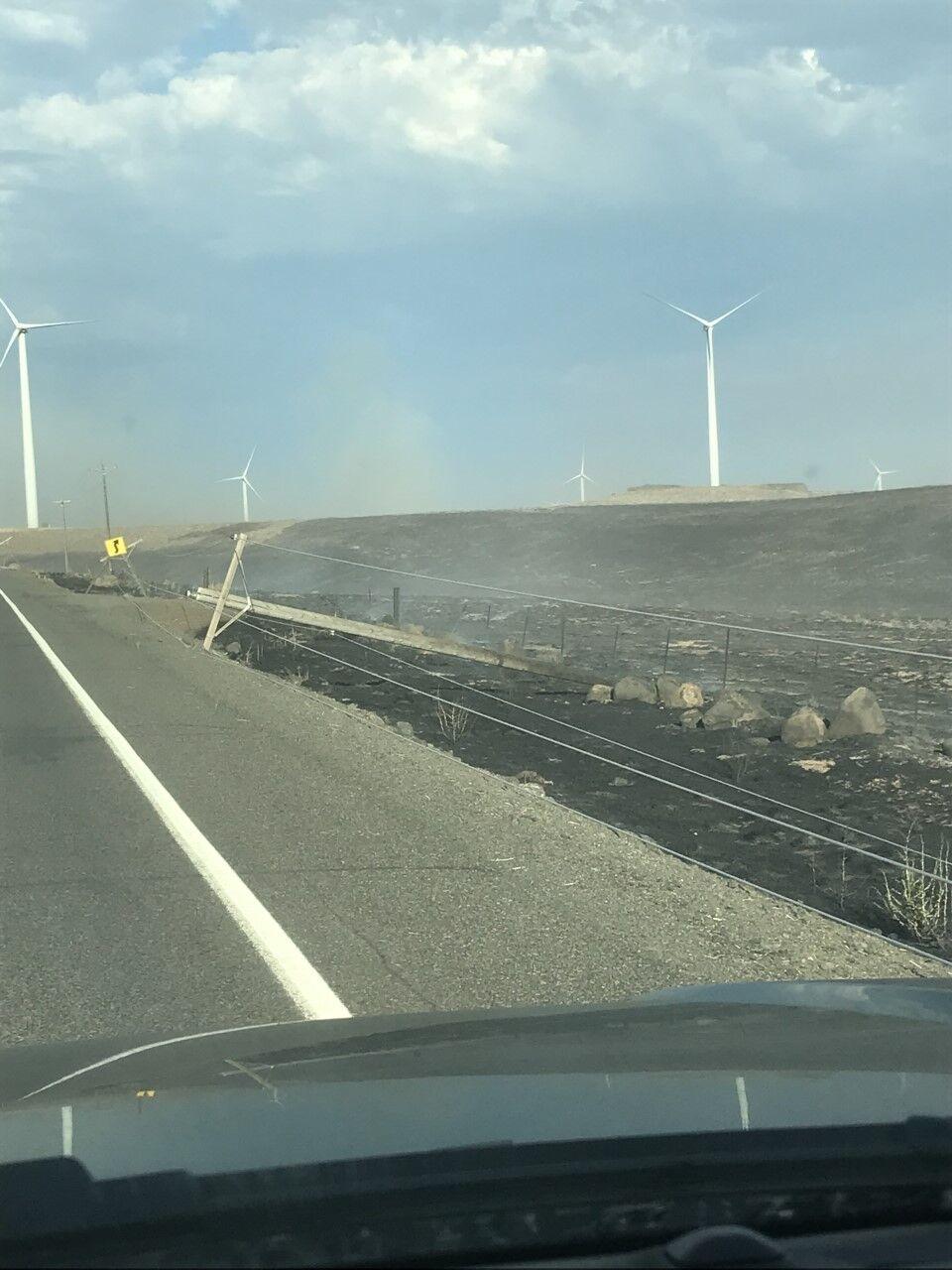 Vantage remains under a Level 2 evacuation order: BE PREPARED to leave and be alert to changes.
UPDATE: 12:00 a.m.
The Vantage Highway fire has now burned 4,500 acres and is 10% contained.
Vantage now at a Level 2 evacuation notice. Under Level 2 residents may return home, but are advised to remain alert for any changes.
Firefighters successfully focused on the threat to Lakeview Drive, Columbia Avenue and Brown Streets, and evacuation levels in the area have been scaled back to Level 2.
Power in the area has been temporarily interrupted for safety purposes by fire crews and will be restored as soon as safely possible.
Firefighters have made progress containing the fire on the south side of the Vantage Highway. Dozers are working to flank the north side. A burnout operation north of Vantage is bringing the containment line west.
UPDATE: 9:19 p.m. 
Residents of Lakeview Drive, Columbia Avenue and Brown Street in Vantage are advised to go now. Level 3 evacuation asks residents to evacuate immediately due to an immediate threat.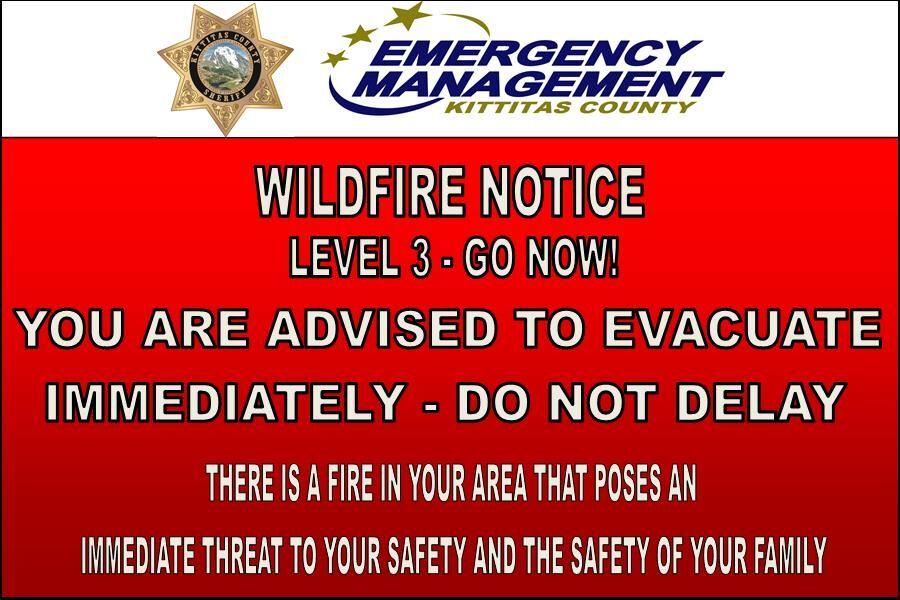 UPDATE: 8:42 p.m. -
The fire is now an estimated 5,000 acres and still growing, according to Deputy State Fire Marshal John Wabel. The Washington State Fire Services Resource Mobilization Plan has been ordered to assist firefighters on scene. 
There is an estimated 40 homes, windmill towers and infrastructure threatened by the fire. 
AUGUST 1, 2022 3:30 p.m. -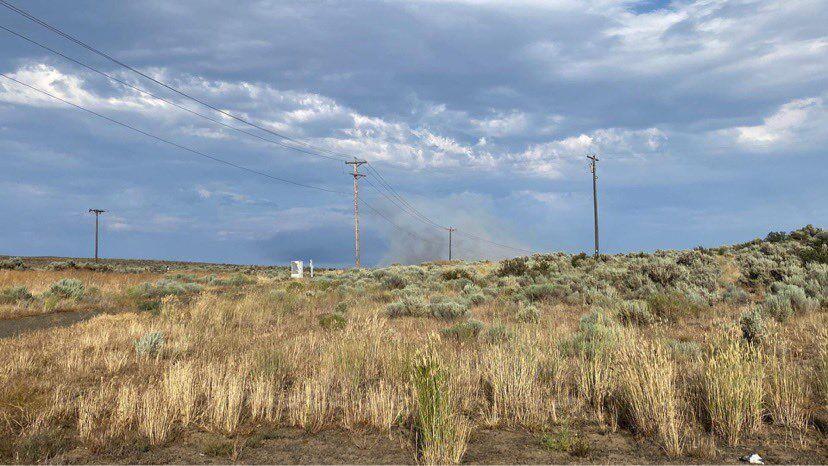 Due to a large fire, I-90 West is closed from Road 81 in Ellensburg to Recreation Drive in Vantage. WSDOT estimates the fire is 2,000 acres and does not have an estimated reopening. 
 The fire was first reported around noon on August 1. It was reportedly being pushed east by the wind. 
The fire is about three miles from Vantage at this time, with smoke reported for miles. Currently the town is under Level 2 evacuation, asking residents to be ready to leave at a moment's notice. 
Crews will be working overnight from the Department of Natural Resources incident management and Kittitas Valley Fire and Rescue.
Incident Commander Brad Wallace said that the fire is around a wind farm area, making it easy for road crews to access and work form, but difficult for air crews to assist.