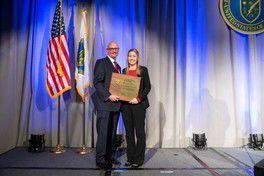 RICHLAND, WA - Hanford Site contractor Mission Support Alliance (MSA) was recently recognized with the Facility Management Contractor Small Business Achievement of the Year award at the Department of Energy's (DOE) Annual Small Business Award Program in Pittsburgh. MSA was recognized for a number of their small business initiatives.
In fiscal year 2018, MSA subcontracted approximately $72 million to local small businesses and maintained active outreach efforts with the small business community.
MSA plays an active role in bringing small businesses to Hanford. These efforts include attending local and national expos and events to meet with small businesses, answer questions and help them register with the Hanford Site vendor database. Types of small business services procured by MSA include staff augmentation, purchase of office furniture and software maintenance.
MSA's Small Business program manager and contract specialist, Amber Bush, was on hand to receive the award.
"We are proud of our efforts, which have had a positive impact on the small business community and the local economy. We will continue to make every effort possible to support the small businesses," Bush said.