RICHLAND, WA - Researchers at the Pacific Northwest National Laboratory have created a platform that monitors and communicates with systems inside your home or business, all while saving you energy and maximizing your utility usage.
We can all relate to getting high power bills back during the summer because of an increased use of energy, or getting a high water heater bill during the winter. Volttron monitors different systems like these simultaneously all on one grid.
For example: that's systems like your thermostat, the lights in your home, your water heater and even that electric car you plug in when you get home from work.          
Each of these examples is considered a separate system and using them all at once without monitoring them together can lead to peak energy usage. The negative effects of using that energy during peak times can mean increasing the cost of consuming them, and the work load of the equipment.
Volttron shifts those energy loads to off-peak times. In turn- this lowers your energy bill and balances your utility usage. Not having a platform like Volttron could mean each system is working on its own mind, without being mindful of other systems in operation... resulting in wasted power.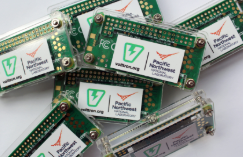 "Normally, the systems don't talk to each other," said Volttron Evangelist George Hernandez. "But it would be very useful for the homeowner [if they did]. You can think about this extending into a business to allow the systems to communicate with each other. This way they can provide the services that they are looking for."
If the grid picks up on something internally wrong with, say, your thermostat - then Volttron can also detect that.
"We're looking at data in the HVAC, lighting, faults in the operations," said Robert Lutes, a Volttron deployment engineer. "How can we improve the operations energy efficiency of the buildings, and also how we can manage devices to both ensure comfort, but also reduce electricity demand. Demand charges and things like that."
Volttron also provides a benefit to businesses working on a much larger grid. PNNL is using Volttron to track things like the electricity circulating throughout several of their building offices.
Volttron is an open source technology, meaning it's made freely available for anyone to use. All you have to do it download the code at 'GitHub' in order to access the software.  
You can get GitHub here: https://github.com/VOLTTRON/volttron