RICHLAND, WA - Washington River Protection Solutions is introducing their workers to Hanford by using virtual reality to walk through the area. The program allows workers to look at different sites on Hanford virtually without putting them at risk. 
Lloyd Keith and Steve Eklund of WRPS helped launch this program a little over a year ago, and since then 600 employees have gone through this training. 
"A lot of people have never experienced an area like this," Eklund said. 
The area workers are mainly walking through are Hanford's tank farms: home to radioactive waste left over from the production of plutonium.
Virtual reality gets them comfortable before ever stepping foot inside those farms.
"It helps improve the safety... they have the sense of familiarity when they walk in there... like, 'hey, I've been here before so its not as overwhelming,' " Eklund said. 
Keith said workers still have to go out and do the work, but are better equipped to avoid any errors that may pop up. He said dealing with radioactive waste is not something to take lightly.
"We've had less exposures... less time in the field to get ready and we have people that are more ready to do the work," Keith said. 
Not only does the program work to keep employees safe, but it also saves time.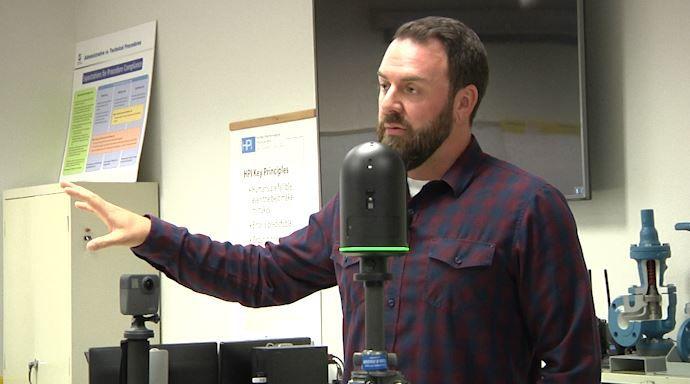 "Providing a virtual method to do this, you can look at that model for 2 hours if you want to and really familiarize yourself with it there's no pressure," Eklund said. 
The technology allows workers to also see the grounds on their phones as well. 
"They can evaluate the areas virtually from their desk," Eklund said. 
While this program has been in affect, program leaders already see the learning effect. 
"Seeing virtual reality will actually interpret it differently than a picture or a slideshow,.. everybody learns a little differently but everyone learns better when you have them in a VR," Keith said.