TRI-CITIES, WA - Several community organizations are spreading hope and support for people struggling with anxiety, depression and other mental health challenges.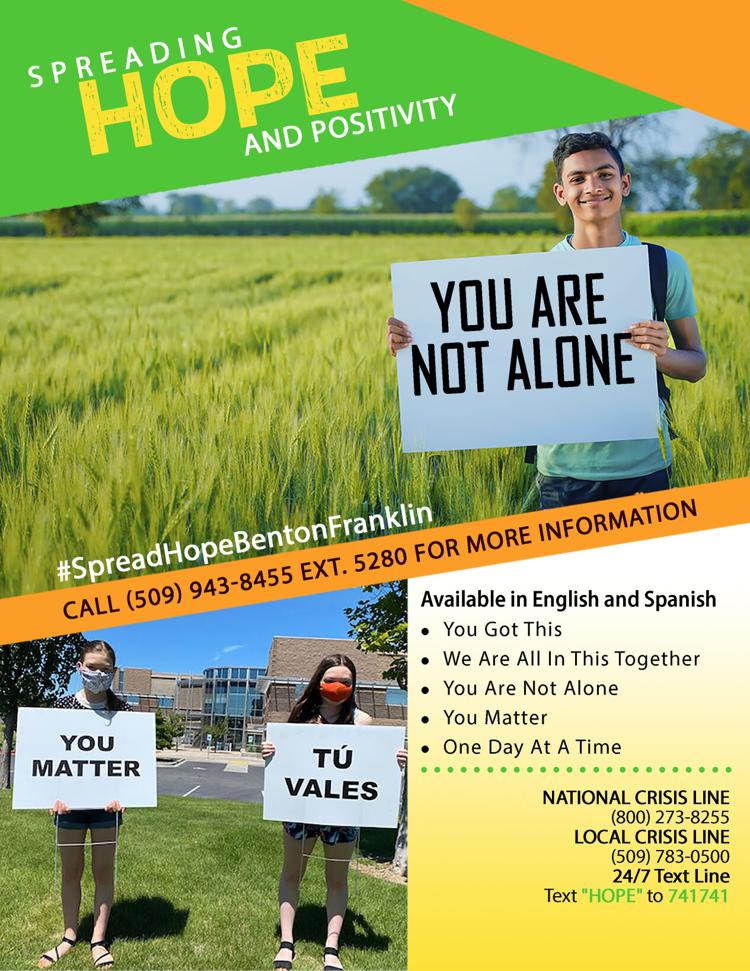 Courtney Armstrong with Kadlec and the Benton-Franklin Behavioral Health Committee Chair said timing of this effort could not be more important as we all cope with the COVID-19 pandemic.
Kadlec and other community partners want to create a climate where talking about mental health is o.k. They are encouraging you to practice mental health, self-care and chick-in with your loved ones.
"So,  we just want to treat your mental health the same way as you would your physical health," Armstrong said.
The focus is to spread messages of positivity and hope in Benton and Franklin County. Armstrong said the purpose of the campaign is to create a hopeful climate.
"Talking about how they are doing is accepted and encouraged," Armstrong said. "And to expand the community conversation to help us help each other."
With this campaign, there are five different yard sign messages. Both are available in English and Spanish.
"So, we are looking for different businesses, organizations within Benton and Franklin County who would like to support the campaign by having these positive messages displayed on their property," Armstrong said. "So, we can encourage hope and positivity to be spread."
In the time of COVID-19, there is a lot of high stress and other mental health issues going on. Armstrong said there are a couple ways that people can improve their mental health including making sure that we are checking in on each other.
"And making sure that we are taking some time for ourselves," Armstrong said. "Thinking about things that we enjoy, but also times with ourselves to check in with ourselves to make sure we are feeling o.k. to see how our emotions and behaviors have been lately. If we are noticing that something is off, really pay attention to that."
Armstrong said know that it is normal to have different feelings and go through stress and anxiety. She said there are ways to take care of our mental wellness.
"Whether that is taking walks, practicing a hobby you enjoy or maybe you might need to go see a counselor or a professional of some sort, possibly medication management," Armstrong said. "Just depends on what works for you."
Armstrong said make sure you are paying attention to your mental health and get help if you need it.
"Because there is help out there," Armstrong said. "You can improve your mental wellness, the same way we take care our physical health."
If you are a business or organization within Benton and Franklin County, you can call Armstrong at 509-943-8455 Est. 5280 to see how you can get a yard sign.
You are encouraged to take photos with the signs around two and post on social media using hashtags like #SpreadHopeBentonFranklin.