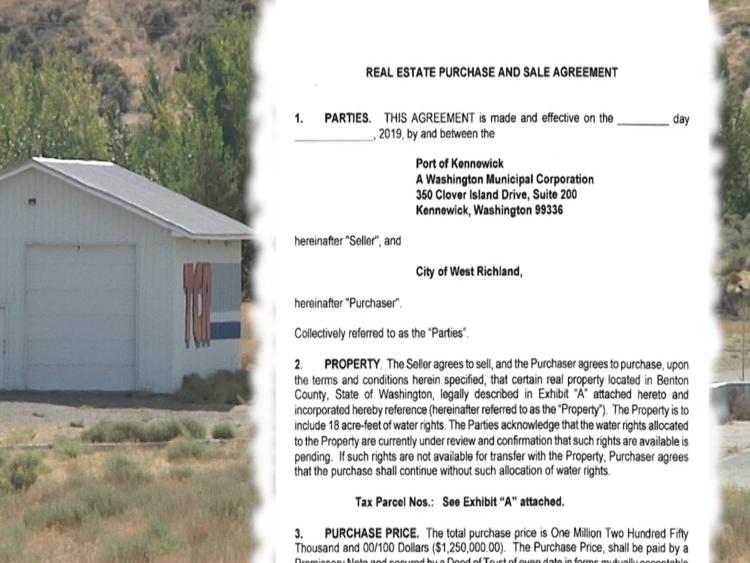 WEST RICHLAND, WA- It's no longer the home to race-cars, the Tri-City raceway has been shut down for 15 years and has more tumbleweeds on the tracks than cars. Now the City of West Richland thinks the track would make a nice home for its new police station.
The City of West Richland has to get through a road block to make that happen. For more than a decade, the raceway has been owned by the Port of Kennewick. For months now, the City of West Richland has been trying to negotiate a deal to purchase the land.
The Port of Kennewick is willing to negotiate but under some stipulations, and also under the risk of losing the land which was previously envisioned to house wineries. The city has a new police station and other economic developments in mind for the 92 acres off of Highway 224 near Keene Road in West Richland.
The city if offering 1.25 million dollars for the land, but the cash won't be paid up front. West Richland would give up its share of the Benton County rural capital county funds; an account that generates money over time through sales tax, which is used to pay for future economic developments.
"West Richland is a residential community and we have a limited sales tax base which makes it challenging to fund basic services including public safety," said West Richland Finance Director, Jessica Platt.
West Richland is under a tight deadline. Voters previously approved a police station bond, but if the city doesn't nail down a spot by the mid-December deadline, then it can't begin the process of collecting property taxes by 2020.
West Richland expects to have more than 600 thousand dollars available immediately to give to the port, and to pay off the remainder over an 18 month period.
The Port of Kennewick originally purchased the land for 1.7 million. One stipulation for selling the land for less than the initial investment is for the port to keep a portion of the water rights. Access to water rights would help the port support its larger projects like the Vista Field development.
Lucinda Luke, the Port of Kennewick's attorney on this real estate purchase says the port is working diligently to come up with an agreement. The next step is to get the land appraised and to meet again on September 24th to potentially secure an agreement.