UPDATE: NOVEMBER 4, 4:37 p.m. 
Cerna's trial is scheduled for April 2023. 
UPDATE: AUGUST 25, 2022 3:41 p.m. 
Bertha Cerna was at her scheduled court appearance at 8:30 a.m. on August 25 at the Santa Ana Courthouse, according to the Orange County Superior Court Public Information Officer. 
Cerna reportedly plans to stay in California and has a public defender. Her attorney asked to move her identification hearing to September 27. 

ORANGE COUNTY, CA -
UPDATE: 8/19/2022
Former Toppenish teacher Bertha Cerna, who was arrested in Orange County on Sunday, August, 14th, is fighting her extradition to Washington State.
According to the Yakima County Sheriff's Office, Cerna has an extradition hearing scheduled for Thursday, August, 25th.
Yakima County Prosecutor, Joseph Brusic says he is working on getting the information together for a governor's warrant, which he will send to Governor Inslee's Office.
If approved by the Governor, the warrant will be sent to California for further approval.
If both Washington and California approve the warrant, then Yakima County would have a limited time to go down and pick Cerna up, which Brusic says they will do.
The Yakima County Sheriff's Office will send two officers to pick Cerna up and escort her back to Washington.
8/15/2022
Bertha Cerna, former Toppenish High School teacher has been arrested in Orange County, CA as a fugitive on Sunday August 14, 2022, according to the Orange County Sheriff's Department arrest log.
She has a bail set to $50,000 and next appearance in court will be 8/16/2022.
When I spoke to the Yakima County Sheriff's Office Public Information Officer Casey Schilperoort and the Yakima County Prosecuting Attorney Joe Brusic, both the sheriff and Brusic is planning on sending two deputies down to California to bring Bertha back. 
Brusic told me if Bertha Cerna decides to "not waive" or refuses to come back to Washington in her arraignment tomorrow morning, the prosecuting office would get a governor's warrant for her arrest. 
If Cerna does waive, YCSO and the Yakima County Prosecutor's Office will split expenses to travel to Orange County and bring her back. 
Right now, Brusic is waiting for her arraignment in Yakima County. 
This is a developing story that will be updated with more information.
________________________________________________
Previous
TOPPENISH, WA - Bertha Cerna, former secondary English Teacher, and Johnny Cerna Jr., former Vice Principal at Toppenish High School's wife now has a warrant out for her arrest as wanted suspect for sexual misconduct with a minor.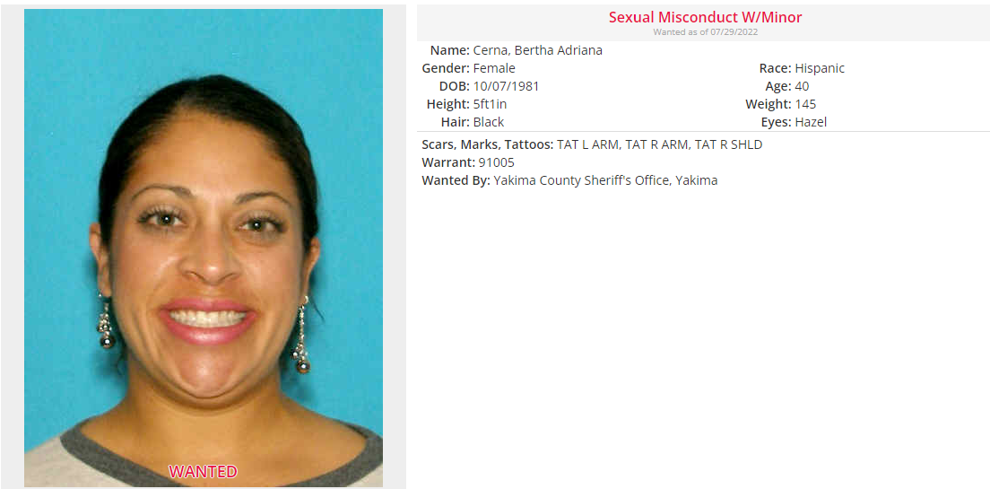 As we previously covered, Toppenish High School Vice Principal and an English teacher, John Cerna and Bertha Cerna have been accused of selling drugs and alcohol to students, as well as sexual encounters.
"Some of the allegations involve the Cerna's hosting parties that included or encouraged students from the Toppenish School District to attend," said Casey Schilperoort, Public Information Officer for Yakima Sheriffs Department. "At these parties, we heard that there was alcohol being furnished to the minors as well as drugs and sometimes sexual favors." 
According to Odyssey the Washington Courts Online Case Search Portal, a case filed on July 29, 2022, having STATE OF WASHINGTON vs BERTHA ADRIANA CERNA - charges filed include:
- Sexual Misconduct With Minor 1st Degree (6/03/2020)
- Supply Liquor or Permit Minor Consume Liquor (6/03/2020)
- Supply Liquor or Permit Minor Consume Liquor (4/01/2021)
When I spoke with Joseph Brusic the Yakima County Prosecuting Attorney, he told me just because the Yakima County Sheriff's Office stopped investigating doesn't mean the case was closed.
"It never was closed," he said. "We just at various times were not getting additional evidence.
He told me he sympathizes with the community of Toppenish having them be so passionate about this case.
"I know that there has been frustration in the community, especially down in Toppenish that we weren't charging then out, that it wasn't moving fast enough and I sorta understand that and respect people's opinions," said Brusic. "But here when we're dealing with a law enforcement investigation of allegations we need evidence."
Brusic told me there was additional evidence that came up recently and that's when the prosecuting office believed they had additional evidence to charge Bertha Cerna. Right now the prosecuting office doesn't think she is in Washington.
"We believe currently she is residing outside the state," said Brusic. "...and we obtained a warrant for her arrest at the end of last week."
There is no warrant for Johnny Cerna Jr.'s arrest, Brusic tells me he is still under investigation and is not off the hook just yet. 
If you would like to submit a tip to crime stoppers for Bertha Cerna, click HERE.