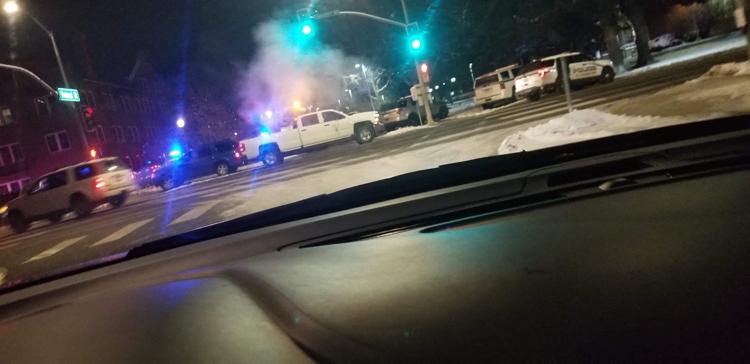 2-8-19 UPDATE:
ELLENSBURG, WA - Central Washington University's president, James L. Gaudino, sent out a timeline describing the events that took place Wednesday, when reports of an active shooter were made. In the release, he explains that authorities know more now about how the shooting rumors started and spread, then shares the timeline:
"Here is the timeline of events and communication, as best we know them to have occurred on Wednesday, February 6:
"4:13 PM - Ellensburg Police make CWU Police aware of a student who is upset and making threatening statements.
"4:38 PM - After investigating the information from Ellensburg Police, CWU Police contact the CWU CaseManagement Services Office in Bouillon to make them aware of the student's comment and to request that they take the precaution of locking their doors. The conversation is overheard by a student, who then tells staff in Lind Hall that he heard that there was a threat of an active shooter on campus.
"5:15 PM - The "active shooter" information triggers ROTC protocol, and the building begins to be evacuated, including first-floor students and employees. Individuals begin to warn acquaintances in other buildings that there is an "active shooter" on campus.
"5:23 PM - A student in Farrell Hall contacts 911 to confirm there is an actual active shooter on campus. The dispatcher advises there are no reports of an active shooter, and asks if the student is reporting one. The student advises KittCom he heard that there was an active shooter and that Lind Hall is being evacuated.
"Based on the student's comment, at 5:25, 911 sends out a county-wide emergency notification that there is an active shooter in Lind Hall, and the building is being evacuated.
"5:25 PM - CWU Chief of Police Jason Berthon-Koch and Officer Murray Wells are standing 50 yards from Lindwhen the emergency call comes and run into Lind, which the rumor has already emptied. CWU sets up a formal emergency command center as five local law-enforcement agencies and CWU Police respond. Police begin a door-to-door search of Lind.
"5:35 PM - The CWU Alert! System notifies employees and students in Ellensburg of the threat via text, email,and voicemail.
"5:50 PM - A student in the SURC gym contacts her father to let him know of the Alert. At 5:53 KittCom receives a call indicating "actual shots heard" in SURC gym. Police continue search of Lind. Law enforcement converges on the SURC, finding no evidence of active shooter or assault, and begin to clear the building.
"6:02 PM - KittCom receives a report of shots fired in the Languages and Literature Building. Officers rush to the building and find no evidence of a shooter or any assault, but begin clearing the building.
"6:27 PM - KittCom reports shots fired at Nicholson Pavilion, where an officer had been conducting a self-defense course. The officer confirmed no shots fired. For the next hour, officers clear every building where shots were reported, finding nothing.
"7:27 PM - All clear is announced, indicating everyone is safe to return to usual activities."
Numerous law enforcement units had responded to the emergency notification by the end of the evening, including officers from five federal agencies in Yakima; the Kittitas County Sheriff; police departments from Ellensburg, Cle Elum, and Kittitas; the Washington State Patrol; commissioned officers from the Washington State Department of Fish and Wildlife; and the US Marshalls Service.
Gaudino goes on to say in the release: "The facts indicate that the events of Wednesday night resulted from overheard words, which triggered responses, which spread through various communication channels. Inevitably, social-media included gossip and speculation to explain the events I've related."
Gaudino explains that the school is now turning its attention to organizing additional support for those who may remain traumatized by what happened. He says the school "will bring together students and employees next week to give them the opportunity to relate their experiences, their concerns, and their feelings." 
"At all times, I was very proud of our police and the professionalism and calm they showed during this very frightening event," Gaudino expresses at the end of the release. "I am humbled and deeply grateful for the dedication and support we received so quickly from our law enforcement partners. If this had been a real emergency, their assistance would have helped save lives. As it was, they helped investigate, helped search, helped evacuate, and provided invaluable professional support."
---
2-6-19 ORIGINAL STORY:
ELLENSBURG, WA - No one is injured after a frightening potential active shooter situation at Central Washington University in Ellensburg on Wednesday night.
NBC Right Now received word around 5:40 p.m. about a potential active shooter situation at Central Washington University. Initial reports indicated that the situation was happening near Lind Hall on the CWU campus. Authorities stated over the scanner that no injuries or victims have been reported as of 6:20 p.m.
The entire university campus was on lock down as authorities attempted to determine and locate the threat until 7:10 p.m., when campus police announced that the campus had been searched, all buildings had been secured, and the campus was determined safe.
This article will be updated as more information becomes available. So far, no suspect or source of the threat has been determined.