Wash. - The Department of Health announced the winners for the Washington Tracking Network contest this month. The contest was meant to help the DOH identify disparities in data and learn how to make it more accessible to the public.
Students from all over the state participated in the contest by creating projects in three different categories; health sciences, science communication and community engagement. Each category had its own requirements for their project. 
A total of 17 students won either first, second or third place in one of the three categories either as a group or solo project. Each project was judged by experts in that category.
Health Sciences Judge Jeff Bryant said he didn't know what to expect since this is the first time this contest was done but he was really impressed by the projects.
"The level of sophistication was very high and the level of effort is very high, which was impressive, there was a lot of great creative thinking," Bryant said.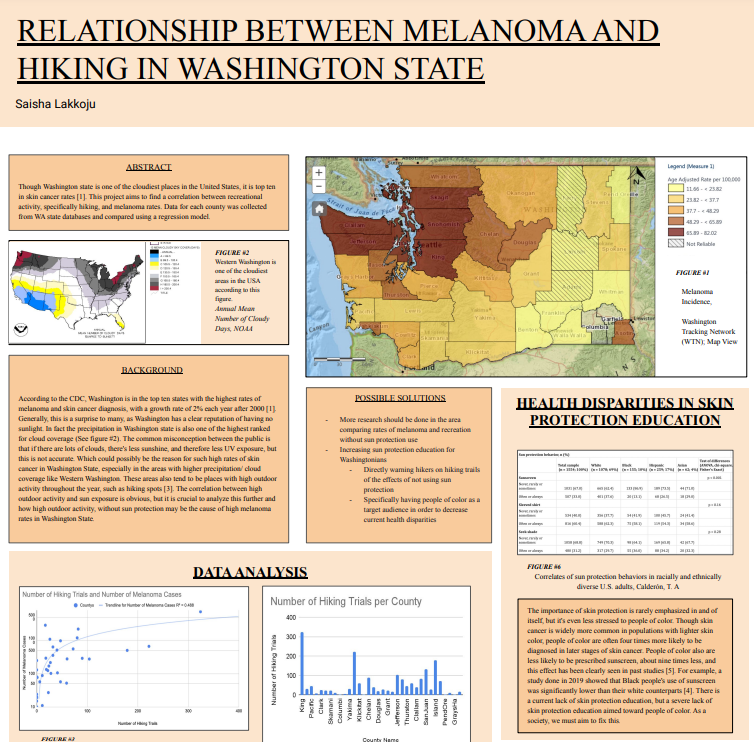 Student from Bothell High School Saisha Lakkoju won first place in the health sciences individual category. Her project was focused on the relationship between outdoor activity and melanoma rates in the state, specifically focused on hiking. Lakkoju said she was surprised by what the data showed. 
"Washington is like the top ten states in the country that has high melanoma rates, which is surprising obviously because we have a lot of clouds and no one really expects that," Lakkoju said. 
She drew the conclusion that people who spend more time outdoors are more likely to get melanoma. Minorities also tend to have it at higher rates because skin protection is often emphasized more to light-skinned people.
Bryant said they chose Lakkoju's project because it was well researched, had great presentation and was very thorough.
Lakkoju said she didn't expect to win.
"I was in class and on my phone and since most of us didn't have a lot to do since it's the last week of class I got the email and I was like 'oh my god this is so cool,'" she said.
She added this project could potentially help her with her future career by showing her how to find the data she needs and how to analyze it. 
If you'd like to see Lakkoju's project or other winning projects, click HERE.