YAKIMA, WA – State Fair Park will look extra special this holiday season by transforming the fairgrounds into a drive-thru Holiday Light Fest, presented by Yakima Federal Savings & Loan.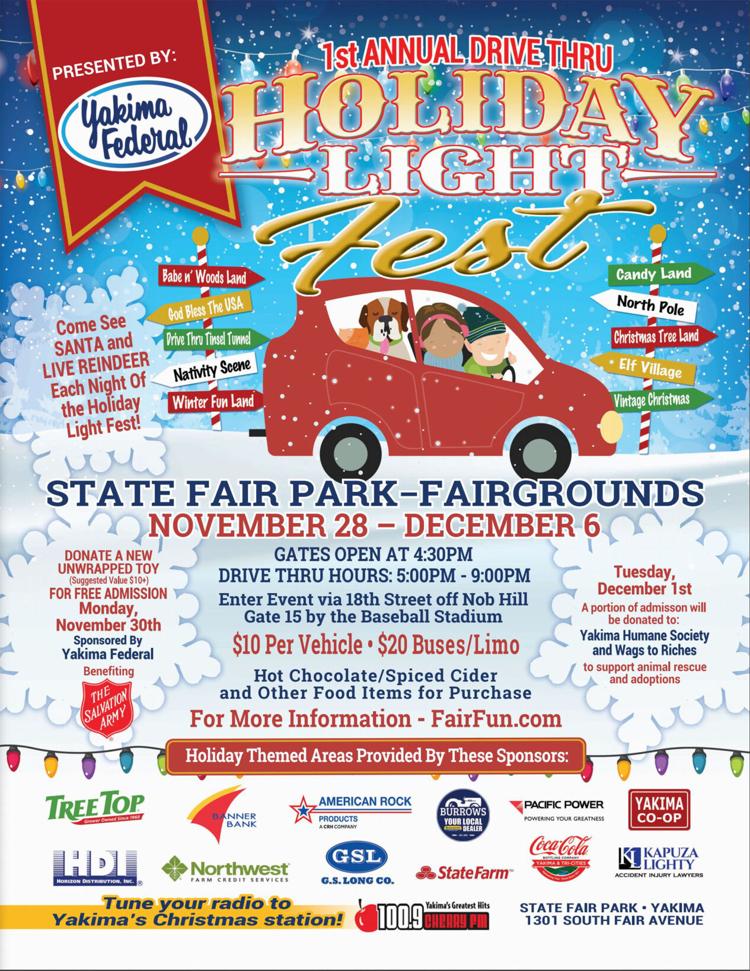 This will be Yakima's newest holiday experience and must-see holiday attraction to enjoy this year.
"This has been an extremely difficult year for everyone, and we hope this event will bring some joy to the community. The staff, our Board, and volunteers at State Fair Park have worked really hard to make this event something special that we will build upon for years to come. Putting this event together in such a short time would not have been possible without all the partners and the community all pitching in." Said Kathy Kramer, President, and CEO.
This drive-thru experience will feature 12 festive and fun holiday-themed scenes, nearly 20 miles of lights illuminating buildings and trees. Some of the themed scenes include Candyland with a festive gingerbread house, the North Pole with two of Santa's reindeer – Dasher and Comet, a mailbox for letters to Santa, and the big man himself!
The social-distanced festival is slated to begin on November 28th and run through Sunday, December 6th. To enter the event, turn North on 18th Street from Nob Hill Blvd and enter at Gate 15 which is located on Pacific Ave (by the Yakima County Baseball Stadium). Gates will open at 4:30 pm with the drive-thru hours from 5 pm – 9 pm each night. Admission will be $10 per vehicle and $20 for limos and buses. Group discount tickets are available, see our website for details.
A drive-up concession area will be available. Food items will include traditional concession items as well as special holiday offerings like hot chocolate and spiced cider. Credit or debit cards are preferred, but cash will be accepted as well. The new drive-thru event route will be similar to that of Fair Food Fest, and guests will wind slowly through the route with their park lights on.
Guests will be provided a map showcasing each vignette once they enter. To enhance the festival experience guests will be encouraged to tune to radio station 100.9 Cherry FM, the Stephen's Media Group station has been providing round-the-clock Christmas music from November 26- December 31st for over 20 years.