WASHINGTON — Several county sheriffs in Washington have banded together in opposing Initiative 1639, the new law putting certain restrictions on firearms.
Initiative 1639 — approved in November — raises the age to purchase a semi-automatic rifle from 18 to 21, calls for enhanced background checks, and requires buyers to complete a firearm safety course. The initiative also holds gun owners accountable if someone uses their firearm to harm themselves or others.
The week after the general election, the National Rifle Association and the Second Amendment Foundation filed a joint lawsuit against the state and Attorney General Bob Ferguson, claiming I-1639 violates the U.S. and Washington state constitutions.
So far, the Adams County Sheriff, the Benton County Sheriff, Cowlitz County and Sheriff, Franklin County and Sheriff, the Klickitat County Sheriff, and the Spokane County Sheriff have all announced their opposition to I-1639, publicly or otherwise.
Adams County Sheriff Dale Wagner said in his announcement that "Those who live and reside in Adams County have made [their opinions on I-1639] very clear in how we voted this last election with an overwhelming percentage against I-1639." MORE: Adams County Sheriff: "I will not enforce I-1639 as it is currently written"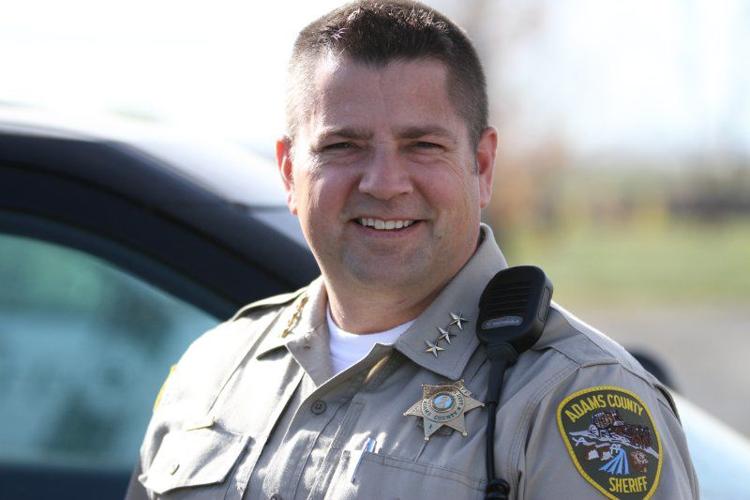 Benton County Sheriff Jerry Hatcher made his announcement on Wednesday, January 30, saying: "We (Sheriff Hatcher, Chiefs and Sheriffs in Benton and Franklin Counties and the Benton County Prosecuting Attorney on I-1639) unanimously feel without clarification the initiative as written is non-enforceable." MORE: Benton Co. Sheriff Hatcher announces opposition to Initiative 1639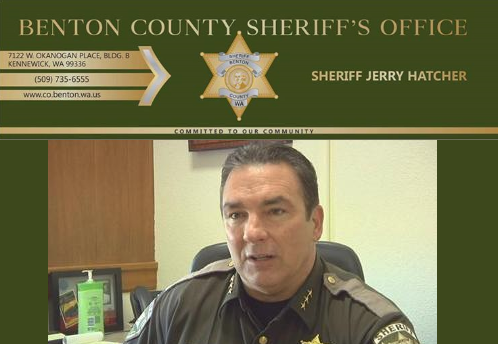 Cowlitz County Sheriff Brad Thurman also made his announcement Wednesday, saying he will wait and see if any changes are made to the initiative before moving forward with enforcement. County commissioners adopted a resolution on Tuesday, opposing the implementation of I-1639. MORE: Cowlitz County sheriff to hold off enforcing gun Initiative 1639
Franklin County Sheriff Jim Raymond wrote his memorandum to deputies regarding the new law back in November, stating: "I don't want to physically, or my deputies to go out and be arresting anybody for these types of crimes." Franklin County Commissioners have since joined Sheriff Raymond in his opposition, and have introduced a resolution similar to Cowlitz County's. MORE: Franklin County Commissioners approve resolution opposing Initiative 1639
Grant County Sheriff Tom Jones is adding his name to the now-long list of Washington law enforcement officials who will not enforce I-1639. MORE: Grant County Sheriff: "I am instructing my deputies not to enforce Initiative 1639"
Grays Harbor County Sheriff Rick Scott announced the office's position on the new initiative on January 31.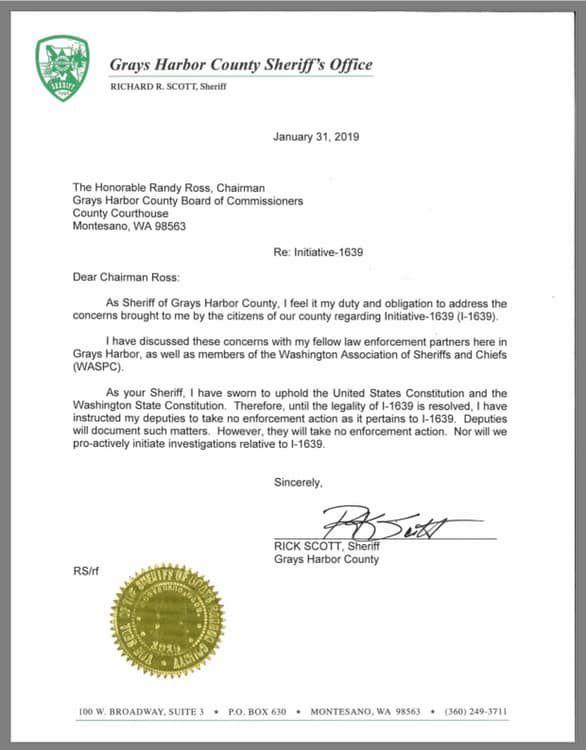 Klickitat County Sheriff Bob Songer told the Yakima Herald-Republic that he also believes the new law is unconstitutional.
The Lewis County Sheriff's Office and Republic Police Chief Loren Culp announced shortly after the November election that they wouldn't enforce the new law.
Pacific County Sheriff's Office: https://www.pacificcountysheriff.com/press-releases/sheriff-souvenir-issues-response-to-initiative-1639?view=full
Spokane County Sheriff Ozzie Knezovich also made a statement against I-1639, saying he both fought and spoke against the new law, as well as having spoken on multiple radio shows denouncing I-1639. He believes the law is unconstitutional at the State and Federal level, and has even offered to join the lawsuit currently challenging I-1639, which is a joint lawsuit filed by both the National Rifle Association and the Second Amendment Foundation. MORE: Spokane County Sheriff Ozzie Knezovich: "1639 is unconstitutional at the State and Federal level"
Stevens County Sheriff Brad Manke also  added his name to a growing list of Washington Sheriffs and Police Chiefs who say they will not be enforcing I-1639. He issued a statement on Friday, referencing his county's 73% of voters who voted against I-1639. MORE: Stevens County Sheriff Brad Manke says he will not enforce I-1639
Yakima County Sheriff Robert Udell also expressed his opposition to I-1639, saying the decision was made collectively by the department. He says the initiative is not aligned with the U.S. or the state's Constitution. MORE: Yakima County Sheriffs will not enforce I-1639
On Thursday, January 31, Attorney General Bob Ferguson's Policy Director, Kate Kelly, gave the following response:
"We are aware of this situation and are actively monitoring developments as they occur. Attorney General Ferguson has been clear that he is committed to protecting the legal and constitutional rights of Washingtonians, and upholding the will of the state's voters in passing Initiative 1639. You can learn more about Initiative 1639 and the role of the Attorney General in the implementation of the new law on our website here http://www.atg.wa.gov/initiative-1639. Our office is confident that Initiative 1639 is constitutional, and we intend to defend it in court."
SHERIFFS REMAINING NEUTRAL ON INITIATIVE 1639
Douglas County Sheriff Kevin Morris made his announcement Friday regarding the increasing opposition to the new law, citing "numerous requests for comment by the media and citizens of Douglas County." He remained passive in his statement, saying "The Douglas County Sheriff's Office has a proud tradition of common sense policing, a perspective we will continue to apply in our operations as it relates to I-1639." MORE: Douglas County Sheriff Kevin Morris releases statement on I-1639
Walla Walla Sheriff Mark Crider, College Place Police Chief Troy Tomaras, and Walla Walla Police Chief Scott Bieber released a joint statement this week similar to the Washington State Sheriff's Association statement posted online. They say that while they opposed I-1639 before the election, they will "enforce all laws equally whether we agree with them or not." MORE: Walla Walla, College Place agencies say they will uphold gun safety Initiative 1639