KENNEWICK, Wash. –
YAKIMA COUNTY 
Yakima County Fire District 5 is currently responding to multiple accidents within the district due to weather conditions. 
In a Facebook post, Fire District 5 is asking the public to take their time if they have to go out or don't go out at all as they expect the roads to get worse with overnight temperatures. 
Benton County 
Benton County Fire District 1 is asking the public to avoid going out unless absolutely necessary in a tweet while they deal with several weather related accidents.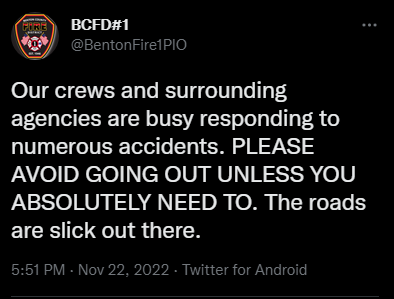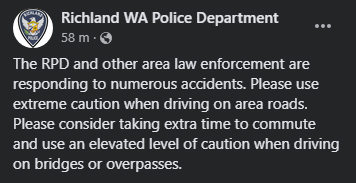 FRANKLIN COUNTY
Franklin County Sheriff's Office is asking drivers to slow down as they travel the major county roads tonight.
Freezing rain on U.S. Route 395 is making driving conditions between Pasco and Connell dangerous, according to FCSO.
"70 mph is entirely too fast. Slow down please," the post shared by FCSO said. 
FCSO reported four collisions in the area. 
Drivers are advised to use caution and expect delays as law enforcement helps crashed cars.