YAKIMA, WA – Perry Technical Institute (Perry Tech) has received approval from the Washington State Gambling Commission and will host a new 'Win A Home' raffle in 2021.
Students from the Construction, Electrical Technology, Heating Ventilation Air Conditioning & Refrigeration, and Plumbing Technician programs will collaborate to build the estimated 2,522 square foot home which is scheduled to be raffled off on Saturday, January 8, 2022. Take a virtual tour here!
Raffle tickets are now available to purchase for $100.00 each with sales locations listed in the photo below. (Terms and conditions at the end of article)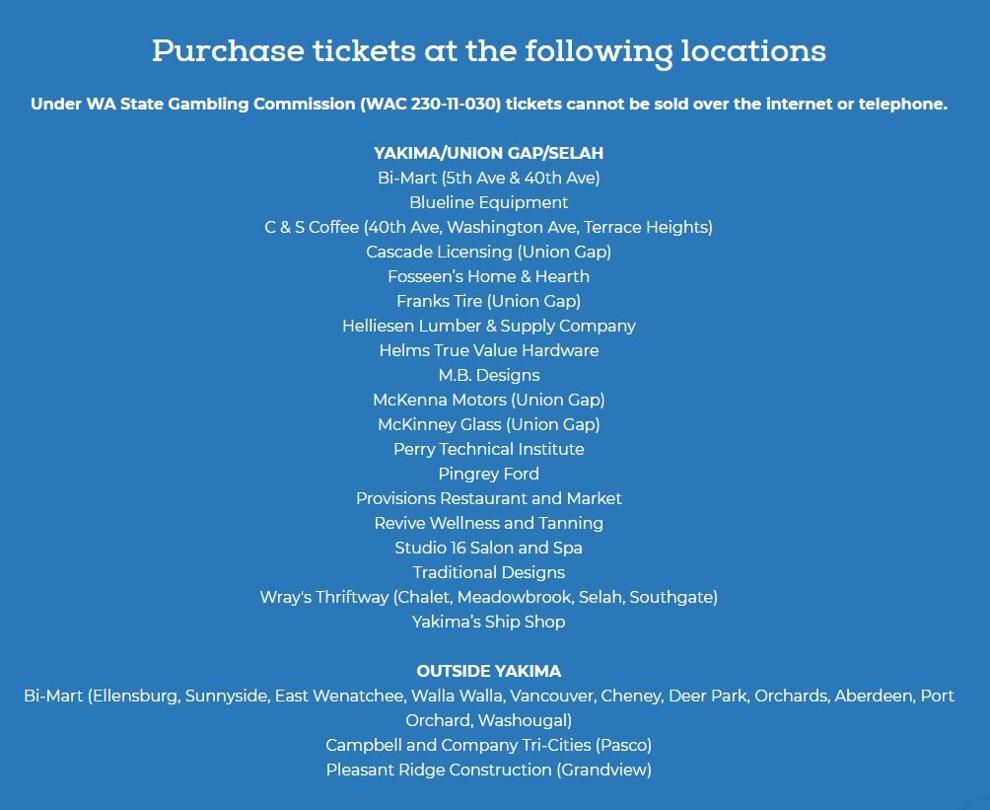 A total of 6,000 tickets are available for sale, and a minimum 4,000 tickets will need to be sold in order to raffle off the estimated $400,000 west valley Yakima home.  If the 4,000 ticket threshold is not met, the raffle will revert to a 50/50 drawing, less expenses.
"As a non-profit school who relies on fundraising to support our students, we are so excited to have this opportunity once again to raise funds for scholarships while providing a hands-on learning experience for our students through the raffle campaign," said Christine Coté, President of Perry Technical Institute. "With Harvest Auto and many more sponsors coming on board to support the students, we have really hit the ground running, and feel like with the community's support we can reach the minimum 4,000 tickets in order to raffle off the house."
In 2019, Perry Tech introduced their first 'Win a Home' raffle campaign as a way to raise funds for student scholarships. With a maximum of 6,000 tickets available, 4,000 tickets were required to be sold in order to raffle off the 2,245 square foot west valley Yakima home. While the 4,000 tickets sold threshold was not met, a 50/50 drawing took place on Saturday, January 9, 2021 where the winning ticket holder won more than $120,000.
The raffle is sponsored by Harvest Auto where profits from ticket sales will benefit student scholarships.
For more information, contact the Perry Technical Foundation at 509.453.0374 or by email to foundation@perrytech.edu.
RAFFLE TERMS & CONDITIONS
6,000 maximum tickets to be sold.
If fewer than 4,000 tickets are sold, a cash payment of 50% of total ticket sales (less expenses) will be awarded to the winner.
Drawing to be held Saturday, January 8th, 2022 at 3:00pm at Perry Technical Institute, 2011 W. Washington Ave., Yakima, WA 98903
Home has an estimated value of $400,000. Prior to drawing, final value will be determined by an appraisal.
All tax withholdings are the sole responsibility of prize winner and due prior to prize being transferred. Winner is also responsible for any taxes, license, registration, insurance or fees associated with prize won.
Participants must be 18 years or older.
Need not be present to win.
Purchaser(s) must be individually listed on each ticket, no company/business names allowed.
Tickets are non-refundable.
Per IRS regulations, as a game of chance, raffle tickets are not tax deductible.
Winner must claim prize by April 30, 2022.
Employees of the Perry Technical Foundation and their immediate households are not eligible to enter.
Any/all purchasers or holders of this Win A Home raffle ticket agrees to hold harmless Perry Technical Foundation, Perry Technical Institute, along with any/all affiliates, faculty, staff and students acting in good faith as part of this voluntary gaming purchase.
All Win A Home raffle ticket holders agree to share their likeness for any/all Perry Technical Foundation/Perry Technical Institute official promotional purposes including post-raffle winner announcements.
Ticket sales must be conducted face-to-face. Online and telephone sales are prohibited.
Tickets and/or payments for tickets cannot be mailed.