KITTITAS, WA - After months of recovery, Officer Benito Chavez is returning to work for the Kittitas Police Department.
Officer Chavez and Kittitas Deputy Ryan Thompson were involved in a shooting back in March. Deputy Thompson sadly died in the line of duty that night.
It was a bittersweet moment as Officer Chavez expressed how thankful he was to be back and honoring Deputy Ryan Thompson.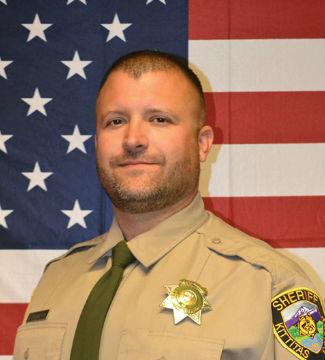 "The only reason that I'm able to stand here right now in front of everybody is because of Deputy Ryan Thompson and the sacrifices that he made that night," Officer Chavez said.
With gratitude and honor, Officer Chavez returns to work for the Kittitas Police Department.
"First off, I'd like to take a moment of silence for Deputy Ryan Thompson; please bow your head."
The entire community of Kittitas is still mourning the death of Deputy Thompson.
"The community was in shock," said John Kribbel, a friend of Deputy Thompson. "I mean, there's no if, ands, or buts about it, it was... it's not something that's supposed to happen in a small community and yet here we are."
On March 19, a traffic stop escalated to the deadly shooting that took the life of Deputy Thompson and injured Officer Chavez. Chavez was shot in the leg and suffered a fractured femur.
"I'm walking with a cane and I go to physical therapy three times a week," said Officer Chavez. "Right now I'm just trying to build up the muscles in my leg to be able to walk again and things like that."
Officer Chavez and Deputy Thompson's families continue to receive an enormous amount of support from many in the community, the entire state and even from across the country.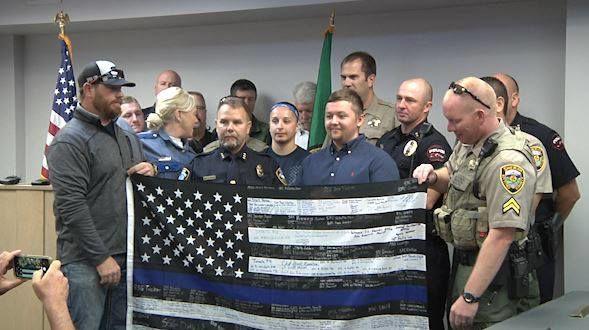 "There was a flag that was dispersed in Wisconsin and it went across the U.S.," said Kittitas Police Chief Chris Taylor. "It was signed by multiple agencies to show support for everything that happened here in Kittitas on March 19."
"Starting the flag in Wisconsin and doing a 31-mile ruck; that my brother did," Kribbel said. "It's a small price, it's a small token and like I said there'll never be anything that we could do to repay you guys ever. So on behalf of me, my family that's here, here you go sir."
Officer Chavez says he returns to work enduring what happened the night of March 19 and carrying Deputy Thompson's memory.
"I think about Ryan a lot. He was a great deputy, he was a great guy. You never really meet a lot of people like that in this world."