TOPPENISH, WA - Sex, drugs, and alcohol with a minor are all involved in allegations made against a married couple, two Toppenish High School faculty. 
John L. Cerna, known as Johnny, the Vice Principal of Toppenish High School, and Bertha Cerna, a secondary English teacher at Toppenish High School had accusations of inappropriate behavior made against them last May. 
Johnny Cerna is the son of the Toppenish School District Superintendent, John Cerna Sr. 
 According to the Toppenish School District, Bertha Cerna has 7 allegations made against her, as follows: 
Provided minors/students with drugs and/or alcohol
Used narcotics in the presence of minors/students 
Driven under the influence with minors/student
Have had inappropriate communication with students
Have had inappropriate relationships with students
Have engaged in grooming behavior
Have violated the Code of Professional Conduct
Johnny Cerna has 6 allegations made against him, as follows: 
Provided minors/students with drugs and/or alcohol
Used narcotics in the presence of minors/students 
Have had inappropriate communication with students
Have had inappropriate relationships with students
Have engaged in grooming behavior
Have violated the Code of Professional Conduct
Now, where did this all begin?
According to the investigation report, Bertha says both Johnny and her have been together since they were 16-years-old.
In 2001 Johnny Cerna was hired into the Toppenish School District as a paraeducator. 
In 2008 Bertha Cerna was hired in the Toppenish School District at the elementary school as a teacher's aide and in 2009 Bertha became an elementary school teacher. 
In 2016 Bertha became a teacher at Toppenish High School.
Speaking with the Yakima Sheriff Office, this is where their timeline isn't completely clear stating they don't know exactly how long the timeline goes back for but, they do have accounts that this has gone on for over a year but they also have evidence this might go back 5 years. 
In June of 2019, Johnny had meningoencephalomyelitis, which attacked the lining of his brain and his spinal cord. He slipped into a month-long coma and suffered seizures, a stroke, and pneumonia. He spent significant time recovering and rehabilitating from his illness. As a result, Johnny and Bertha did not work during the 2019-2020 school year. 
According to the investigation report, when returned to school Johnny "didn't seem like himself" and was caught a couple of times sleeping at his desk. 
The report said at that time he and his wife would go drinking almost every night at a local bar in Yakima called Hoops.
Johnny Cerna returned to work at Toppenish High School in the fall of 2020 in a new role as Assistant Principal. Due to Covid-19, school during the fall semester was held remotely. 
Johnny Cerna during his time at Toppenish High School took interest in the wrestling team and became one of the Toppenish Wildcat Wrestling coaches.
Social media became pretty prominent for the Cerna's feeling the need to speak out publicly on their Facebook page addressing everyone who made negative comments about their daughter's graduation speech. 
On June 7, 2020, Johnny and Bertha's Facebook page posted saying: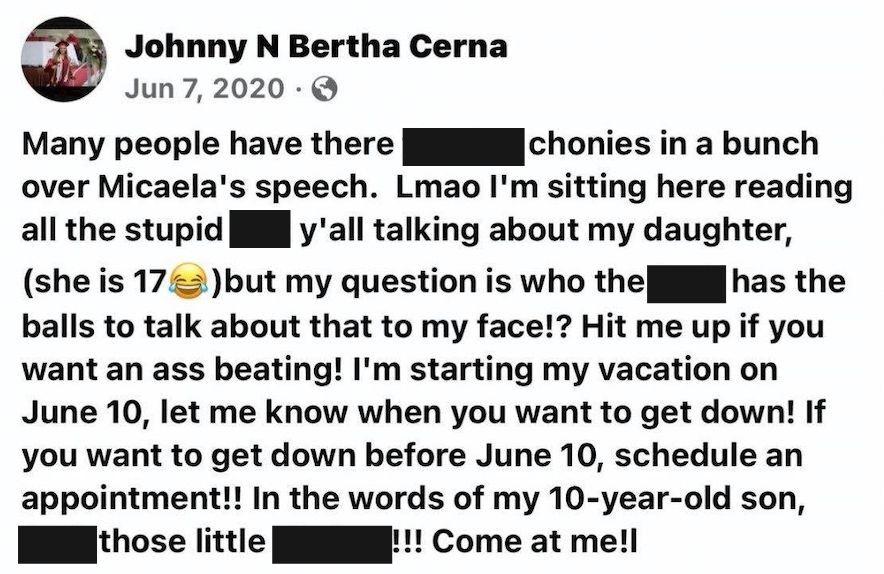 Many people from the community commented on the post talking about the rumors and allegations made against Cerna's stating they would like to have a chat with them about their inappropriate behavior with students.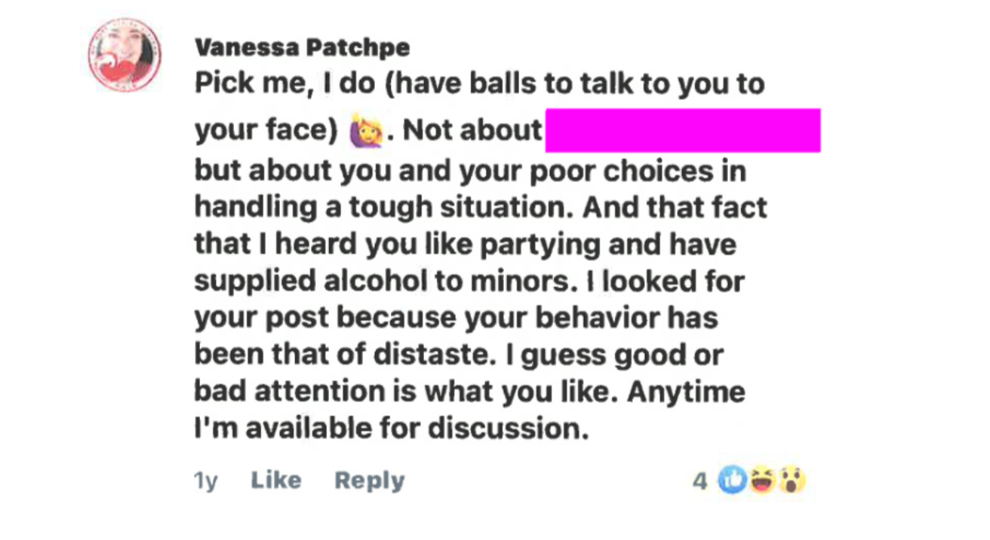 May 24, 2021, Johnny and Bertha Cerna were told they were being investigated by the school district and were put on a paid administrative leave starting May 27th. 
Both were told to not come to any Toppenish School District campus as well as not speak to any Toppenish school district staff.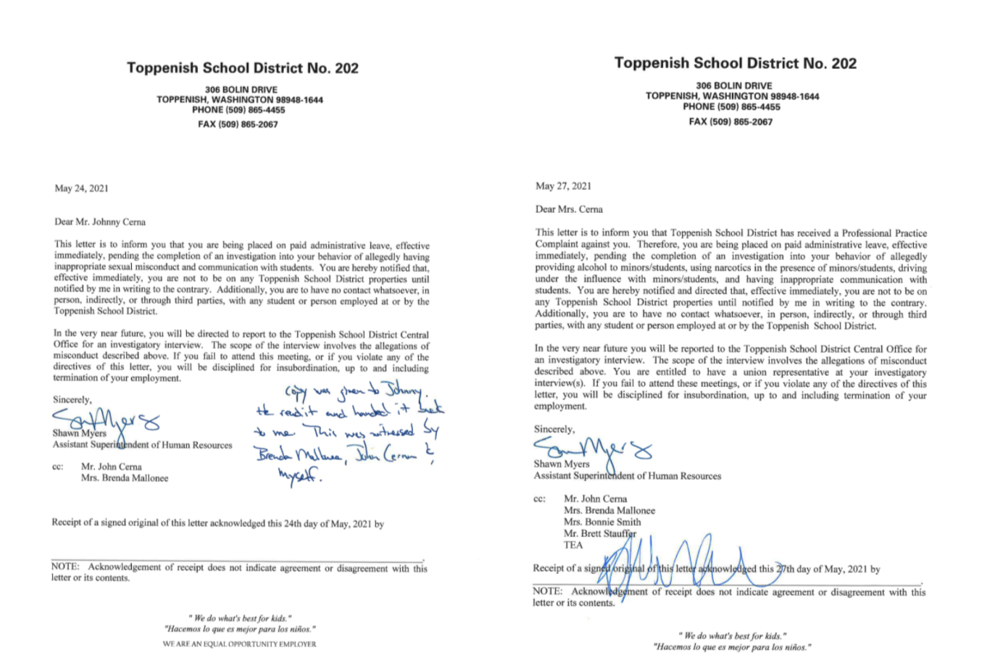 According to a temporary restraining order placed against Johnny Cerna at Yakima County Courthouse, he still went in person to one of the Toppenish Wildcats wrestling team matches on May 26, 2021.
That day, accusations were made with Yakima Sheriff's Office stating, "Cerna's hosted parties that included or encouraged students from the Toppenish School District to attend... at these parties we heard that there was alcohol being furnished to the minors as well as drugs and sometimes sexual favors" said Casey Schilperoort, Public Information Officer for the Yakima County Sheriff's Office. 
From the investigation report done by a third-party investigator by the school district, Bertha encouraged the student to participate in an inappropriate relationship with her husband, Johnny Cerna.
Bertha would also show the student images of the male genitalia of men she was sexually intimate with.
 There had also been records of at least 3 occasions where Bertha had bought the student alcohol. 
According to the Yakima County Court, a formal complaint and temporary restraining order were placed against Johnny Cerna saying he was trying to make inappropriate sexual advances toward a student at Toppenish High School.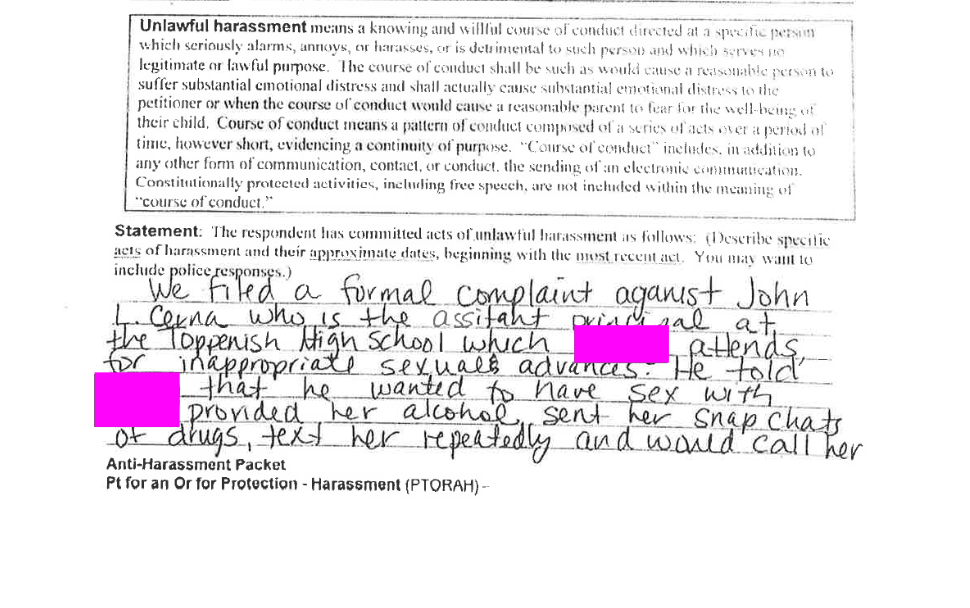 The temporary restraining order said he would provide her alcohol and had sent snap chats of drugs. He would also text her repeatedly and call her in the middle of the night. 
The restraining order was only in place for two weeks and expired June 1, 2021, but got renewed June 15th. 
Since he was seen at the wrestling match after being on paid leave, this would show that Johnny Cerna violated his administrative leave order.
When going through Johnny Cerna's phone for the investigation, there were multiple text messages sent to a student between October 2020 to May 2021. 
There were many text messages sent where the student would not respond but he would continue to harass them saying he was snapchatting and calling her with no response. 
According to the investigation report, at one point while Johnny was in Mexico he stated he wanted to have sex with the student, having the student not respond.
Once word got out that both Johnny and Bertha Cerna were placed on paid administrative leave for accusations made against them, many community members, former and present students wrote to the school district sharing their concerns for the school district and the well-being of the students.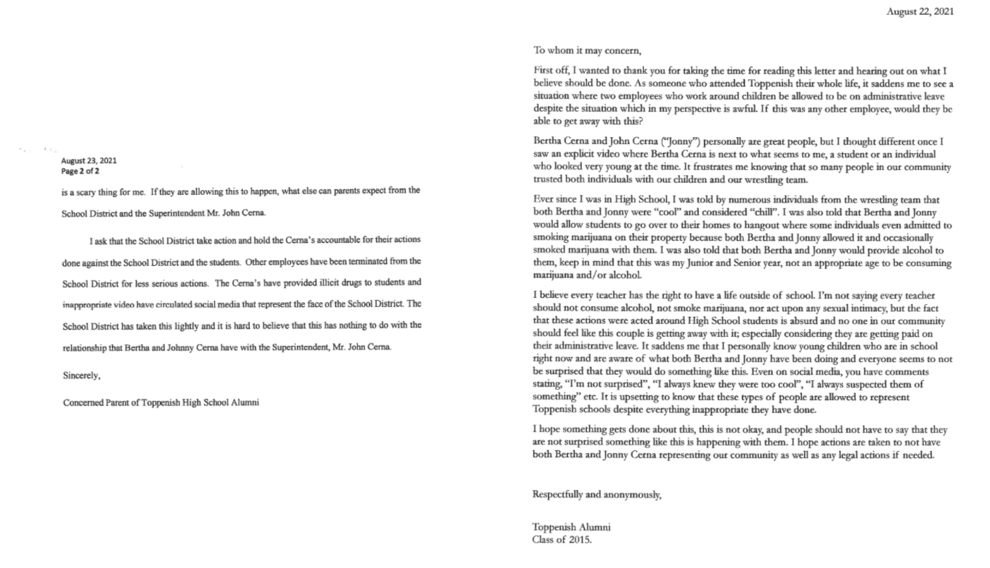 There had also been sexual images of Bertha Cerna completely nude taken on a bed and in a home going around on the internet with many people claiming that she was sending these pornographic images to students.
On June 15, 2021, Johnny and Bertha Cerna both had their first hearing at the Yakima County Courthouse through Zoom. 
August 24, 2021, the Toppenish School Board held a meeting at the Toppenish School District Office where many angry members of the community, teachers, parents, and students went to protest. 
Most of the parents, students, and teachers did not want to be identified in their interviews.
"As a parent, we trust the teachers to be role models for our students. We don't send them to school to be introduced to drugs, to be introduced to alcohol, and especially not to have parties that you know it has to do with sex. We just need it stopped, it has to stop now and they need to be in jail" said an upset parent.
"We need the justice, we are a migrant community and we need the justice," said another upset parent. "This is very heartbroken, probably something that has been going on for years and it's not acceptable. We need to start cleaning up our community because we want to offer a better future for our kids."
A staff member of Toppenish Middle School even said he's willing to risk his job to get justice.
"We don't know what's going on and the community has a right to know, they have a right to know that their kids are safe," said David Hinojosa, Toppenish Middle School Counselor. "This is something that's really important to me, so I'm willing to, I'm willing to lose my job for this; I'm willing to lose everything for this."
Even a concerned student at Toppenish High School said he is concerned about his classmates especially seeing the pornographic images going around and pictures of Bertha drinking a truly with a student in her car.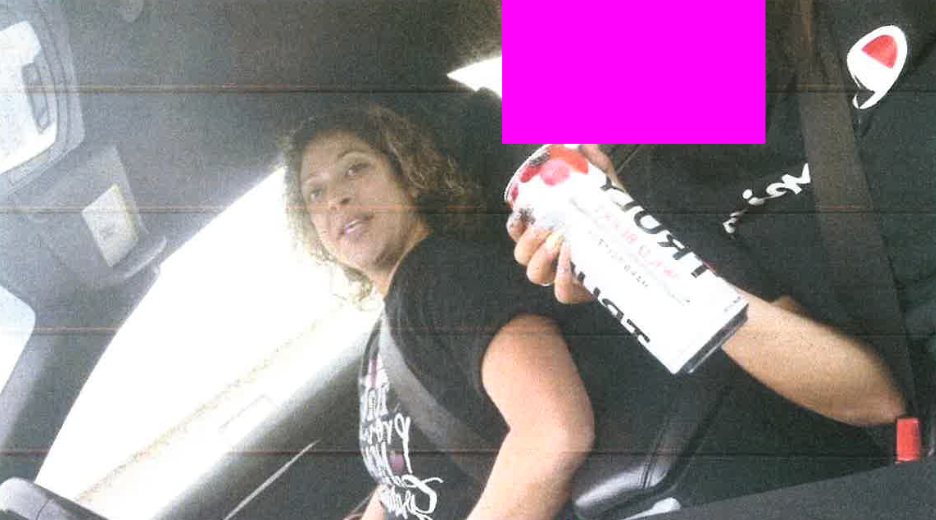 "I was kind of surprised by that but not really that surprised but the thing that got me more surprised was the pornography, the photos," said a freshman at Toppenish High School. "That was what worried me the most because parents send their schools for educations for the kids and they think that they are secure and nothing bad is happening in school and that's one of the things that's kind of worrying for students because it's bad for their mental health and to being exposed to those things already."
On August 26, 2021, the Toppenish School District's Coordinator of Technology met with Central Washington Polygraph & Investigations to give Johnny Cerna's assigned laptop to have it searched. (Bertha's laptop was searched as well) According to the investigator, they found evidence of attempted tampering with data but found no evidence of the accusations involved in the investigation. 
On September 30, I received a written statement from the Toppenish School District stating,
"Our School District takes all allegations of employee misconduct seriously and we typically place the involved staff member on administrative leave so that the allegations can be investigated by a thorough truth-seeking process that is fair to all parties involved, whether done by the School District, or law enforcement, or both of us. Sometimes our investigation justifies retaining an experienced, professional investigator who is not an employee of the School District or otherwise associated with the District. In any case, we make sure our investigation does not compromise the effectiveness or accuracy of any investigation of the same allegations that law enforcement may be conducting. These conditions apply to the current matter. Beyond that, we cannot provide further information as a matter of human resources policy that is based on dedication to fairness to all involved while accurate investigative determinations are reached as to the truth or falsity of the allegations."
The school district hired a third-party private investigator, Sarah Wixson, to help with the investigation against both Johnny and Bertha Cerna.
On October 4, 2021, Shawn Myers, the Assistant Superintendent for the Toppenish School District tried to reach out to both the Cerna's via email, mail and hand-delivered a letter to schedule their investigative interview for the district. 
The interview with Johnny and Bertha Cerna was being scheduled to talk about their allegations stated at the beginning. 
According to the school district, many attempts took place with no success with getting in touch with the Cerna's. 
They did not show up for their set up interview on October 11 but this had no violations against their contracts with the school district. 
The investigator was eventually able to meet with both Johnny and Bertha Cerna to get their side of the story. 
I reached out multiple times to Johnny Cerna, Bertha Cerna, and John Cerna Sr. with no response. 
The investigation report by the school district was finished by the 3rd party investigator about a month ago. 
Right now, there have not been any arrests but the Yakima Sheriff Office detectives working on this case have turned all their evidence over to the prosecutor for review to decide if they will charge the Cerna's criminally. 
This morning Johnny and Bertha Cerna had a meeting with the Assistant Superintendent, Shawn Myers. 
Myers issued both Cernas their discharge/ non-renewal notices of their contracts with the school district January20, 2021. 
I will be following along this investigation and add updates as follows.