UPDATE (10/22/21 at 10:20 AM): The Yakima County Sheriff's Office shared another update stating that the boy, who is actually 3-years-old and not 5-years-old as previously reported, is in stable condition and is awake and responding to his parents who are with him.
Full Update from the The Yakima County Sheriff's Office:
"On 10/21/21 at about 1PM, Yakima County Sheriff's Deputies, Wapato Police Department and District 5 Fire Department responded to a two-car collision at the intersection of S. Wapato Rd and Branch Rd. It was reported that a child had been ejected from one of the cars.
"When Deputies arrived, they located a three-year-old male (not five as first reported) unresponsive near a 2011 Ford Fusion that was off of the roadway at the northwest corner of the intersection. The boy had a severe head injury.
"Preliminary investigation showed that the driver and grandmother of the Fusion, a Misty Morrison (43 yoa) from the Hermiston Oregon area, was travelling west on Branch Rd approaching S. Wapato Rd when one of the two children (the other was a 1 year old boy who did not sustain any severe injuries, both in car seats and in the back seat of the car) had unbuckled himself and she was reaching towards the rear seat to the get him re-buckled and had not seen that she was approaching a stop sign and failed to stop.
"Jesus Rodriguez-Salcedo was driving a 2016 Dodge Dart and was northbound on S. Wapato Rd. He had the right of way.
"The front of his car struck the left rear passenger door area of the Fusion, forcing the Fusion towards the northwest where it hit a power pole, rotated, and went into a field area. As the Fusion was rotating, the child was ejected out the rear window that had broken out and landed about 25 feet from the car.
"Jesus sustained minor cuts on one of his arms and was not transported.
"Misty and the two children were transported to Yakima Memorial via ambulances. The three-year-old was then flown to Harborview Medical Center due to his severe head injuries.
"As of this morning, the three-year-old is in stable condition and is awake and responding to his parents who are with him."
---
UPDATE (4:47 PM): The Yakima Sheriff's Office shared an update on the Wapato crash that sent an older woman and two children to the hospital, including a 5-year-old who has been sent to Harborview Hospital in Seattle for a head trauma injury after being ejected from the vehicle.
Full Statement from The Yakima Sheriff's Office:
"This afternoon at around 1 pm, Deputies were sent to the intersection of S. Wapato Rd and Branch Rd for a two-vehicle collision. When were arrived, we learned that a 5-year-old boy had been ejected out the back window and had obvious head trauma. Deputies provided first aid until medics took over and transported him and the driver to Memorial Hospital. We later learned the 5-year-old was flown to Harborview Hospital in Seattle. The driver has some injuries and is expected to recover along with a 1-year-old child that was in the vehicle. The driver of the other vehicle has some cuts and bruises.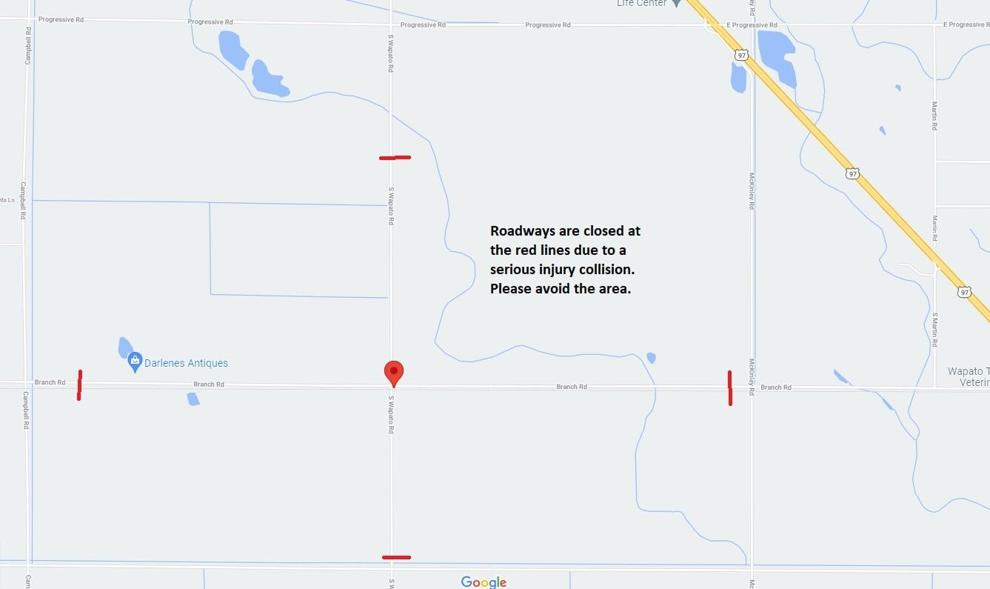 "This is another reminder that drivers must pay attention while driving, obey the speed limit, and stop at stop signs. The roadway will be closed for another 2 hours. Please avoid the area and find alternative roadways to your destinations."
---
PREVIOUS COVERAGE:
WAPATO, WA - A 5-year-old boy is being treated as a trauma patient after a crash in Wapato that caused him to be ejected out of the front window of a car. 
An older woman was reportedly driving her two grandchildren when she failed to stop at the stop sign at S. Wapato rd. and Branch rd. and struck another car going straight. The woman and the two children, 5 and 1-years-old, were all transported to Yakima Memorial Hospital.
Yakima County Deputies and Wapato Police are treating this crash as a fatality crash, although the 5-year-old kid is currently alive. Wapato rd. is expected to be closed for the next two hours while Deputies bring investigative officers to the scene. Deputies are asking people to avoid the area if possible.
Deputies said the 5-year-old was not correctly bucked and when the car and landed in the nearby field. The other car was driven by a college student who deputies said was very shaken up. They want to remind drivers to always be aware of your surroundings, to come to a complete stop at every stop sign, and look both ways before crossing the street.
This is a developing story, which means information could change. We are working to report timely and accurate information as we get it.