KENNEWICK: The Benton Franklin Fair and Rodeo is back next week and this year there's a new attraction. It stands 16 feet tall and you can't miss it.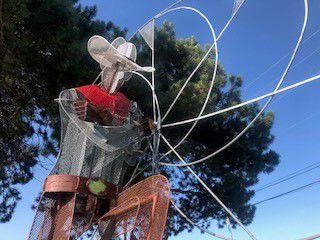 The Benton Franklin Fair and Rodeo hired a local artist to create a statue for the fair this year. It's a 400 pound lasso-tossing cowboy that'll greet you at the front entrance. The man behind it welded and designed it all himself, and is saying its his most iconic ceation yet.
"People don't really understand what their happiness is, I found mine," said Mike Mross.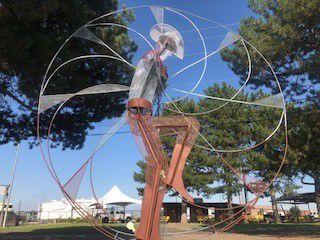 Mike Mross has found happiness from makin things out of nothing. Most of his sculptures are made from mostly salvages materials.
" I just show up somewhere. I'm a poor traveling artist," said Mross.
Mross has a nature of showing up in places like Hawaii and sculpting whatever comes to mind. When he's not being a free-spirited traveler, he's inside his Tri-Cities studio, not too far from the fairgrounds, displaying his creations for all to see.
"I had the Benton County Fair come down and say..We've seen this flower. Do you do this? I said why don't you buy the flower, and they said no we want something more cowboy, more rodeo," said Mross.
40 days later and 400 pounds of steel later, the lasso-tossing cowboy is standing tall for all to see.
"Cowboys and a lasso. What a challenge! I didn't know what I got myself into," said Mross.
During the fair you can catch Mross painting part of the cowboy. Fair officials say they want the cowboy to stay at the fair for years to come.