MORAGA, Calif. – It's been a grand week for Saint Mary's coach Randy Bennett. It's been a great season, including a clutch three-game stretch, for freshman guard Aidan Mahaney.
It was a pretty good 33 minutes of basketball for Gonzaga on Saturday night.
The closing stretch of the Zags' 78-70 overtime loss provided Bennett, who pocketed career win No. 500 over San Francisco on Thursday, and the Gaels with a memorable victory over their West Coast Conference rival.
It was the opposite end of the spectrum for Gonzaga, which had the upper hand until the final seven minutes. The Zags failed to finish and now trail the Gaels by two games in the WCC standings.
"I don't know if I've been part of a better game," said Bennett, who was asked if he'll remember 500 or 501 long after he hangs up his coaching whistle.
"I was telling the players in there, 'Hey, 501 was a lot better than 500,' " he said. "Five hundred was great but I've been in a lot of games, a lot of big games, all that, but I don't know if I've been part of one that was a more special basketball game than that. The atmosphere, the environment, the quality of the two teams – it was fun to be part of."
More on Saturday's setback in our latest Gonzaga rewind.
Mahaney and more Mahaney
Gonzaga fans have seen something akin to Mahaney's unreal performance with the game on the line several times this season. Drew Timme has at least a handful of games in his career that he's simply taken over.
Rasir Bolton, Nolan Hickman and Julian Strawther were entirely clutch in victories over San Francisco, Santa Clara and BYU, respectively.
On the flip side, Zags faithful also have witnessed another talented, drive-oriented guard, Loyola Marymount's Cam Shelton, sting GU's defense in the closing minutes to fuel the Lions' 68-67 upset at the McCarthey Athletic Center.
The most impressive aspect of Mahaney's closing segment – 16 points and three assists in the final 6:26 of regulation andfive-minute overtime – was his ability to shake off a forgettable first 33 minutes.
More impressive? He did the same thing, albeit in a matter of seconds and not minutes, against BYU, burying a game-deciding fadeaway jumper in a 57-56 win last weekend. Prior to that, he was just 3 of 9 from the field.
The Gaels trailed San Francisco with less than six minutes remaining, but they took a 61-55 lead with 1:45 left on Mahaney's 3-pointer en route to a 68-59 win. That timely shot all but erased his 4-of-9 shooting and a misfire on his only previous 3-point attempt.
Mahaney explained his mind set following Saturday's win, which he celebrated by racing over to embrace his parents.
"I'm here two hours and five minutes, exactly, before every single game, just trying to get my shots up," said Mahaney, who played at Campolindo High, roughly 2 miles from Saint Mary's campus. "I try to conduct myself like a pro so everything I do, I'm trying to get better.
"It's just trusting your work. … The countless stairs I've ran. The countless miles I've ran. The countless laps I've ran. The countless shots I've put up. Just work, just trusting your work, and that's how I get my confidence to be able to do that."
Mahaney did it against a variety of defenders. He drove left and hit a tough 6-footer over Bolton while being fouled. He drove around Hickman for a layup. He went left against Anton Watson and finished with a high-arcing bank shot. He went right and hit another tough banker over Watson.
He drove left again on Watson and made another rainbow floater off glass with his left hand.
He sent the game to overtime when he threaded a pass to Mitchell Saxen – barely out of Watson's reach – for a layup with 5.5 seconds remaining. In overtime, Mahaney banked in a 3-pointer and added two assists.
"I think he just has it," Bennett said of Mahaney. "A lot of guys would fold on that, and just kind of hang their head and just kind of finish the game like that. That's where he's kind of special – he's got great belief and he really, really competes to win."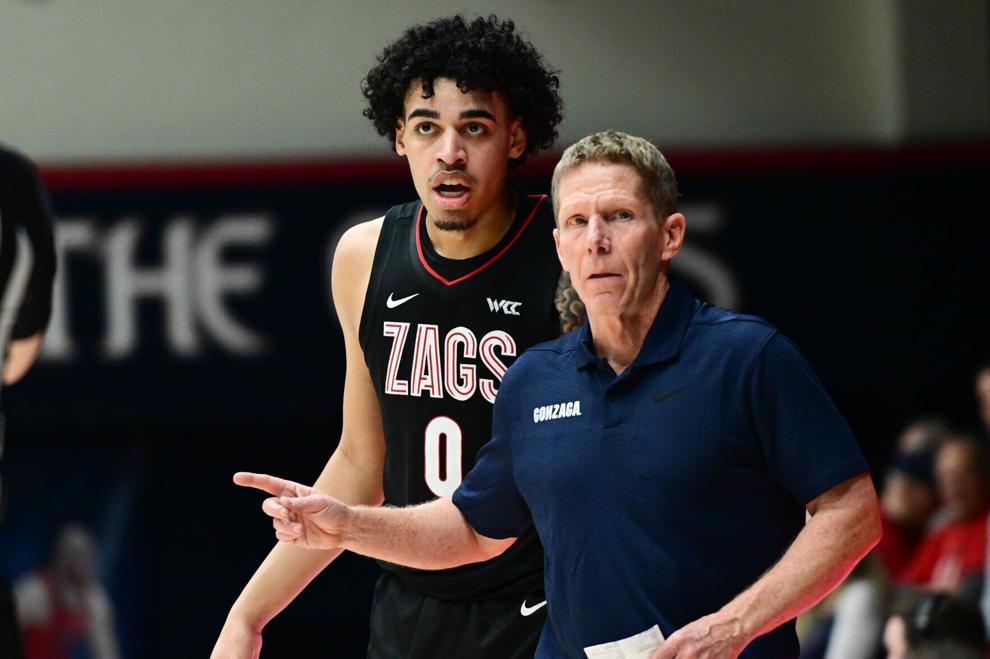 Strawther shines late
It looked like Strawther might be the hero again, three weeks after his 3-pointer in the final seconds led Gonzaga past BYU 75-74.
The junior wing hit a pair of floaters, both giving Gonzaga a two-point lead, in the final 2:15 only to have the Mahaney-led Gaels eventually force overtime.
Strawther finished with 10 points. Gonzaga had solid shooting stats (49% from the floor, 36.4% on 3s) despite sputtering in overtime.
"It was tough to get good looks, but we got them," Zags coach Mark Few said. "It was tough to score around the basket. They were really physical with Drew (Timme), but I thought the guards did a good job for the most part of getting downhill and hitting their little paint shots.
"Then when we could find Drew in the right places, he was delivering. Our percentages looked pretty good. Other than slipping and falling down a couple times and a couple turnovers there at the end, I thought we took pretty good care of the ball. But it was hard to generate offense, especially down the stretch. It got really, really physical."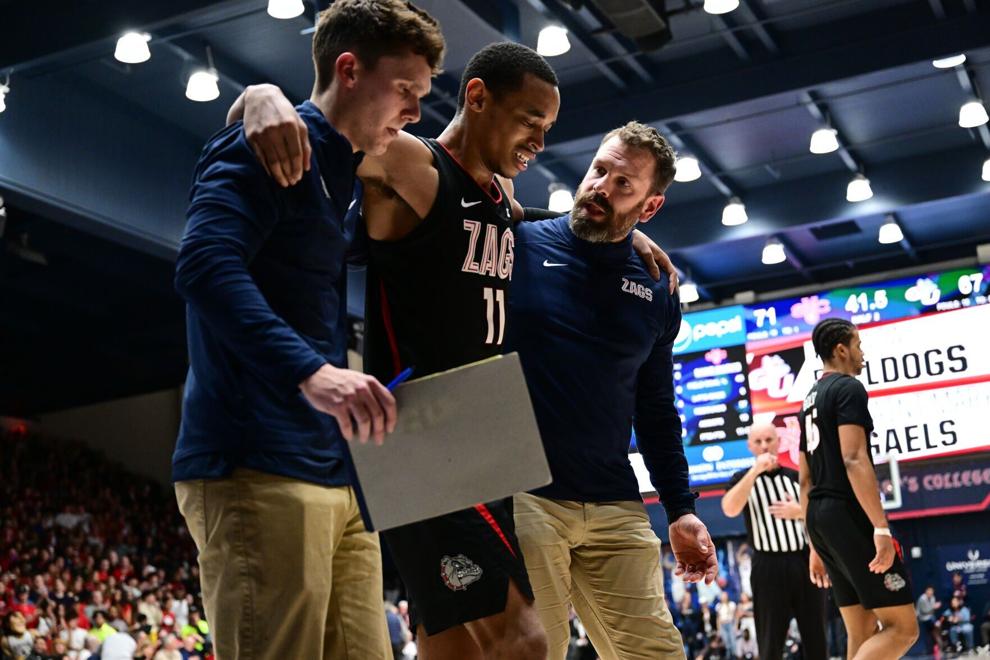 Hickman exits with injury
Hickman took a hard tumble to the court late in overtime and immediately grabbed at his right foot/ankle. He limped to the bench and didn't return for the final 41.5 seconds.
Hickman finished with seven points, including a 3-pointer that cut SMC's lead to four in overtime. Few said it was too soon after the game to have an update on Hickman's status.
Hickman sprained his ankle in a road loss to Texas, but returned four days later to play 29 minutes in a win over Kentucky.