Hermiston is located in Northeastern Oregon, just across the state border of Washington. However, the high school competes in the Mid-Columbia Conference (MCC) in which all but Hermiston reside in Washington. So, what does the return of high school sports look like for them?
The Hermiston Bulldogs have to follow guidelines from the Oregon Health Authority as they sit in Oregon. However, in order to return to competition, Washington and the rest of the Mid-Columbia Conference will have to fulfill the guidelines set by the Washington Department of Health.
"We are in a unique situation," said Larry Usher, "and in my role of Athletic Director of the Hermiston School District, I obviously have to keep an eye on what's going on in the Oregon Health Authority because we have to follow all those orders and laws as well as Governor Brown and the Department of Education. At the same time, I have to keep an eye on what's going on with Governor Inslee, what's going on with the WIAA, what's going on with the Washington DOH, and including everything that's going on with the Benton Franklin counties. In a nutshell, we have to piece together what best for us in the community as a part of the Mid-Columbia Conference."
Usher says that the two states have aligned fairly well up until recently. In fact, Oregon was more lenient, but now he says with the new guidelines, the tables have turned.
"Now the state of Washington has provided a pathway that looks much more forgiving to get kids back on the field," said Usher.
Washington's phasing is based on a decreasing metric while Oregon is based on a hard metric. With these in mind, Umatilla Country sits well-within the "Extreme Risk" category. When the numbers do start decreasing, this could create a gap between Hermiston and the rest of the MCC.
"It's unique and interesting as well at how sports are labeled in Oregon vs. Washington," said Usher. "For us, we can do some moderate risk sports like girls soccer and flow pitch softball, but we can't compete in volleyball or football. We're trying to figure that out."
But he says that for now, the Bulldogs are committed to competing in the MCC at all costs.
"Really our focus still remains in making sure all of our athletics takes place within that conference," said Usher.
Fall sports are scheduled to start February 1st, but only cross country would be allowed to compete under both Oregon and Washington health guidelines. The MCC chose to move Girls Swim and Dive to Season 3 due to the lack of indoor swimming facilities combined with the climate of Eastern Washington that makes competing outdoors not a viable option.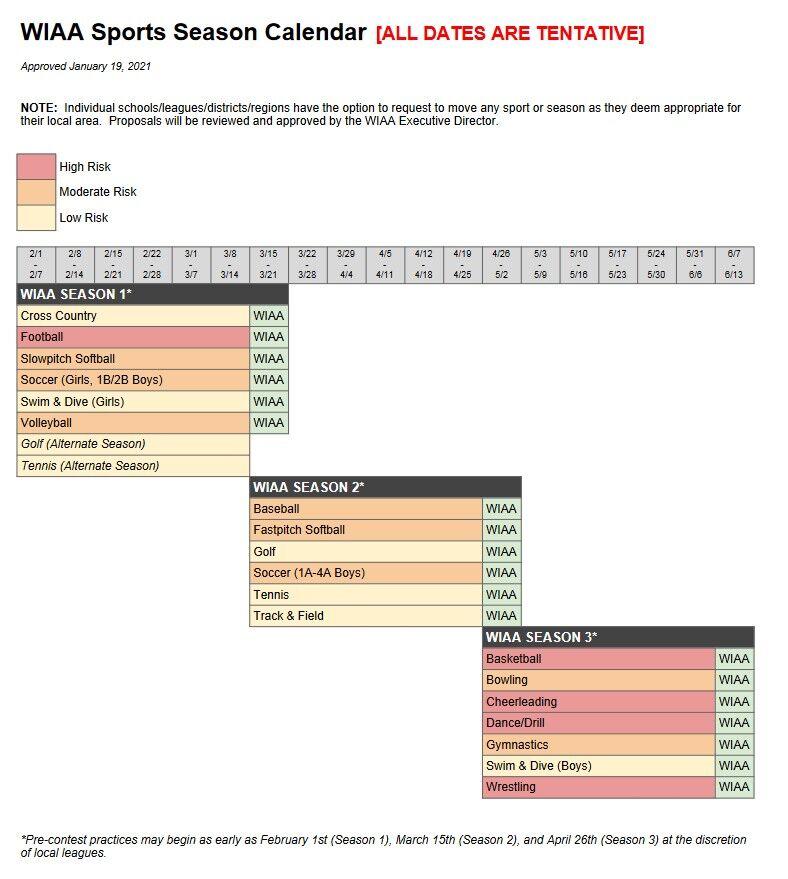 Full interview: