KENNEWICK, WA - June is survivors month in the world of cancer care.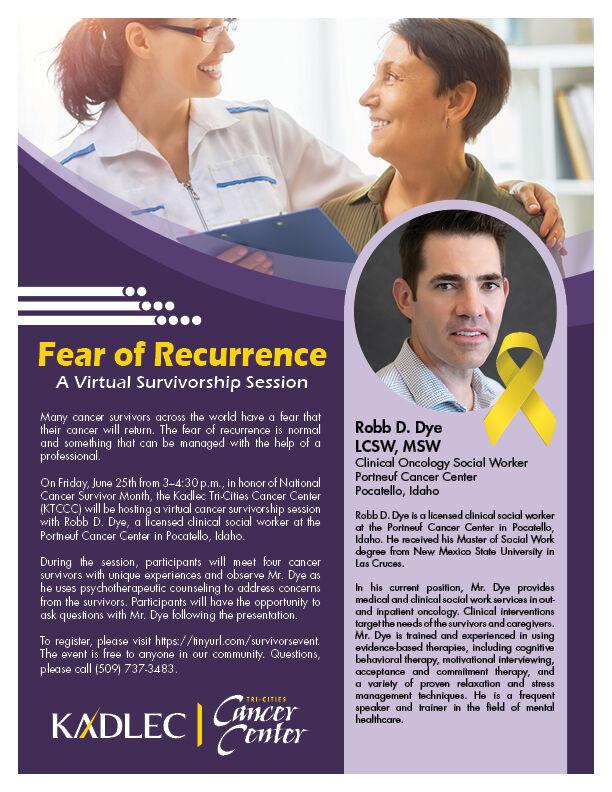 Many cancer survivors have a fear that their cancer will return. That fear is normal and is something that can be managed with the help of a professional.
"People have been through so much. We know that cancer is not just a physical journey, but an emotional journey," Joan Stewart, the community and education outreach with the Tri-Cities Cancer Center, said.
At the cancer center, she said they focus on addressing the whole person including everything they are going through. In the past six years, they have focused on survivors as an entire entity.
"As people heal and they finish their treatment a lot of times, the family or the patient goes into cancer care thinking: 'Oh, it is going to be so good when it is over. I am going to be so relieved when it's done.' But, we have found, in our work with cancer patients, post-treatment, that is something they carry around and that is the fear of recurrence of their disease," she said.
In order to honor the journey and assist in the healing, organizers came up with a program called fear of recurrence. The virtual session will be with a licenced counselor.
"We have taped a very intensive session with four of our cancer patients and this counselor working through their feelings, their anxiety and their experiences and helping them find a way to heal," Stewart said.
Even if you are not a caner patient, she encourages you to join them virtually.
"And understand better what that cancer patient and love one is going through and how they can help them on that at the end of the journey when the treatment is over," she said.
After the virtual session on June 25th, you will have the opportunity to ask questions and discuss the conversation further. To register, click here.