RICHLAND, WA – Leidos and Centerra Group, the parent companies of Hanford contractor Mission Support Alliance (MSA), donated $50,000 to The Children's Reading Foundation of the Mid-Columbia (CRFMC) to support the Bridging the Literacy Gap program. The funds will be used to purchase books and for an outreach campaign to increase awareness amongst families and caregivers of their important role in raising a reader to ensure all students start their school career ready and close the achievement gap.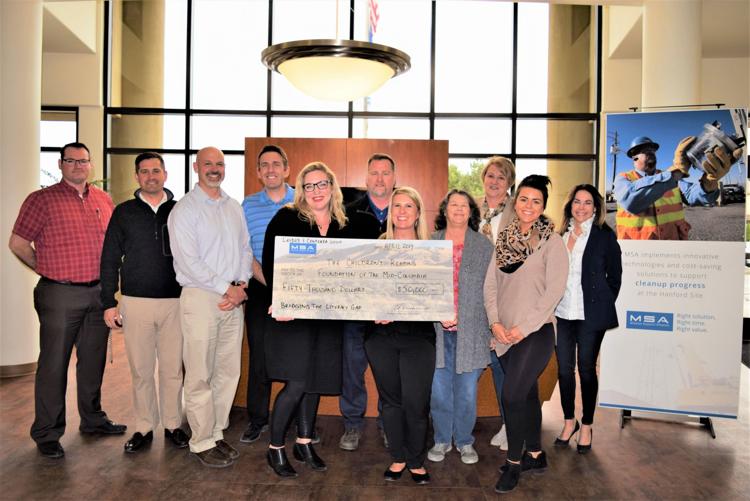 Without a strong foundation in reading, children are left behind at the beginning of their education. Every parent wants the best for their child, but not all know that literacy is one of the best ways to prepare their child for school and life success. The outreach efforts will reach these families, empowering them in their important role as their child's first and most influential teacher while providing them with literacy's vital tool – books. The Bridging the Literacy Gap program is aimed at, but not limited to, families whose children are most impacted by the achievement including racial and ethnic minorities, English language learners and low-income families. Executive Director of CRFMC, Sara Schwan, is thankful for the partnership with Leidos and Centerra Group. "With their generosity, we are able to execute an awareness campaign that reaches those families who can benefit greatly by knowing they have the power to really help their child excel in literacy and in school."
Bob Wilkinson, President of MSA, states that education is a cornerstone of the MSA corporate giving program. "We know that reading is fundamental to education and to creating the next generation workforce at Hanford. Unfortunately, access to books is not a reality for everyone. We're proud to partner with The Children's Reading Foundation of the Mid-Columbia to reach out to these families and make summer libraries available for so many young people this year."
MSA employees will be volunteering to label books at an event on Friday, May 10 from 9 a.m. at The Children's Reading Foundation of the Mid-Columbia offices (201 S. Fruitland Street in Kennewick).