The calm before the storm...
Increasing clouds today with winds becoming breezy this evening.  Morning temperatures in the low-mid 20s, mid-upper 30s by noon and afternoon highs in the upper 30s-low 40s. 
Snow, Wind and a little Rain... 
A powerful winter storm will push into southern Oregon this evening and then slowly drifts northeast tonight-early Thanksgiving morning.  This storm will produce significant snow across central and southern Oregon along with damaging winds.   Moderate to heavy snow will likely push north into southern Morrow county, OR  (Foothills of the southern Blues).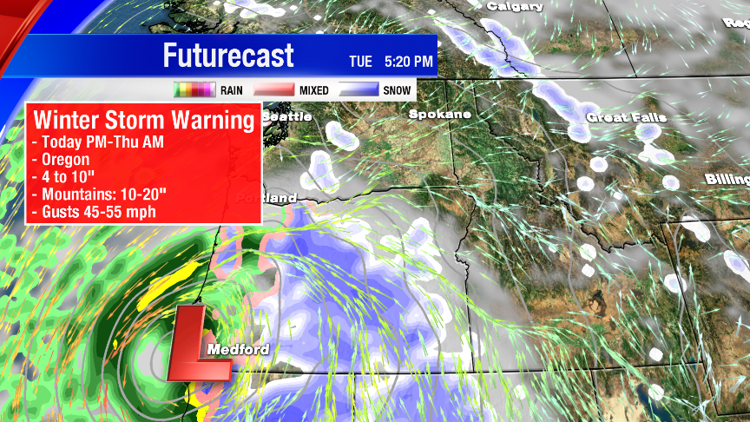 Winter Storm Warning… Central/Southern OR, Southern Morrow Co. and Northern OR Cascades - Until 4 AM Thursday
- 4 to 12
- Mountains: 10-20"
- Damaging Wind: Gusts 30-50 mph
- Blowing/Drifting Snow 
A strong easterly to northeasterly flow will develop across eastern WA tonight-Thursday morning intensifying upslope conditions in the southern WA Cascades (White Pass and South) and the Simcoe Highlands.  This will increase their snowfall potential. (See Below)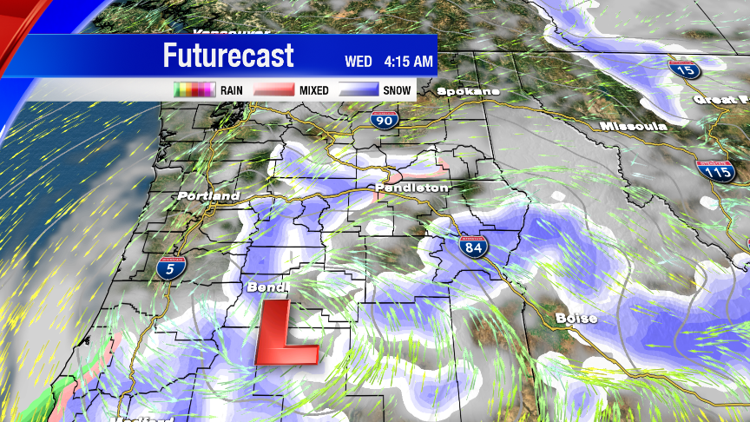 Winter Weather Advisory - 3 PM Today-4 AM Thursday
- Simcoe Highlands and Southern WA Cascades (White Pass, Goldendale, Bickleton)
- 4 to 10"
- Gusts 50 mph
- Blowing and Drifting Snow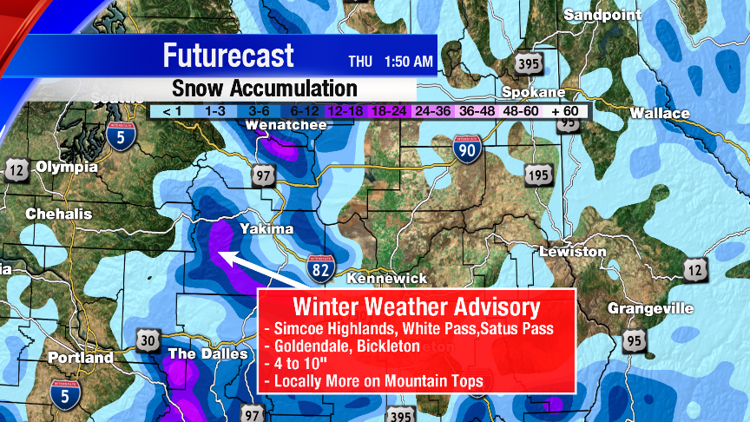 For most of our viewing area (Yakima/Kittitas Valleys, Columbia Basin, Foothills) tonight-tomorrow morning we could see a little rain/snow mix or light snow mainly along I-82.  Any accumulation should be less than half an inch.  My main concern tonight and tomorrow will be the potential for damaging wind.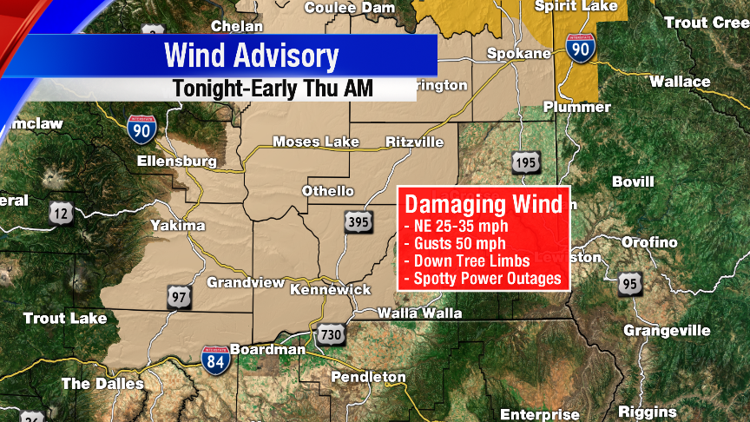 Wind Advisory… Most of Eastern WA - Tonight 1 AM-Thursday 1AM
- NE 25-35 mph
- Gusts 50 mph
- Down Tree Limbs
- Spotty Power Outages
- Bring in Holiday Lawn Decorations 
Travel Concerns… This Evening-Early Thursday AM
- Dangerous winter driving conditions throughout much of central/southern OR and into the southern Blues in OR
- Driving through the Gorge on I-84 could be a little challenging from Hood River-Cascade Locks with 1-3" by noon Wednesday
- Best route through the WA Cascades will be over I-90/Snoqualmie Pass as heavy snow is expected at times over White Pass
- Be prepared for some snow at times climbing up Umtanum Ridge on I-82
- Finally… Two hand the steering wheel as gusty winds will want to push your car around especially along east to west roadways.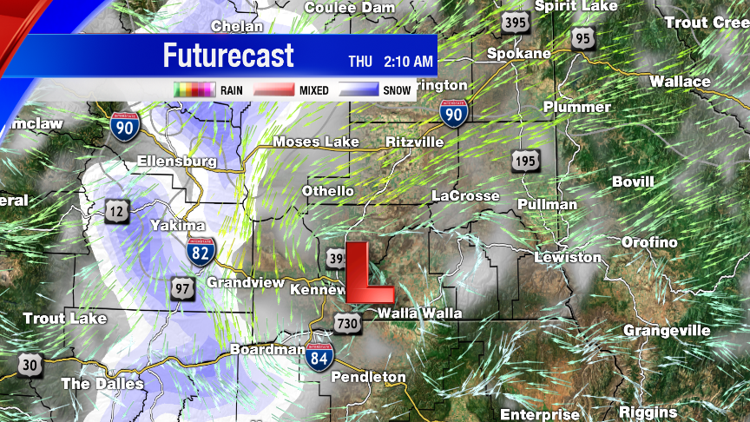 The low then tracks into SE Washington overnight Wednesday and early Thanksgiving morning.  We will likely see some wrap around snow showers with accumulations of 1 inch or less with heavier amounts in the southern WA Cascades.  The storm will weaken Thanksgiving with decreasing wind and maybe some afternoon clearing.  However, upslope winds will keep snow showers falling through late morning along the east slopes of the Cascades.  Much colder air begins to arrive in the northerly flow with highs in the 30s and lows in the teens.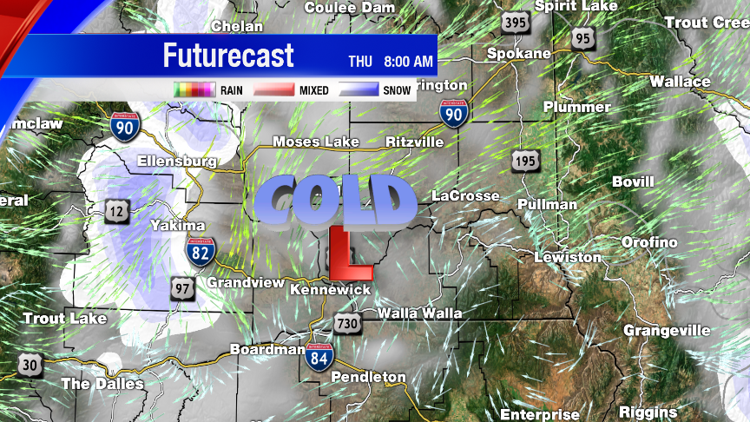 Dry and cold Friday through Saturday, highs in the low 30s and overnight lows in the single digits and teens!  Our next weather system arrives Sunday night-Monday with a chance for snow overnight and a rain/snow mix on Monday.  Models are hinting at a slight chance for a little freezing rain early Monday morning.